A Saanich Paralympian helped rescue a missing person with dementia, with the help of her trained canine Lucy.
Jessica Tuomela is blind and uses a seeing-eye dog to navigate. When she's not training for next year's triathlon event at the Paralympics in Paris, she has been training Lucy, a four-year-old golden retriever, to work as a discriminant scent trailing canine to be used in search and rescue using scents. That work paid dividends on May 17 when she received a text message from a neighbour that their elderly relative had gone missing during a walk around Elk Lake.
The family (who aren't named to respect their privacy) bought a scent preservation kit from Tuomela, essentially a swab that's kept in a jar. If stored properly, the scent can last for up to 10 years, according to Tuomela.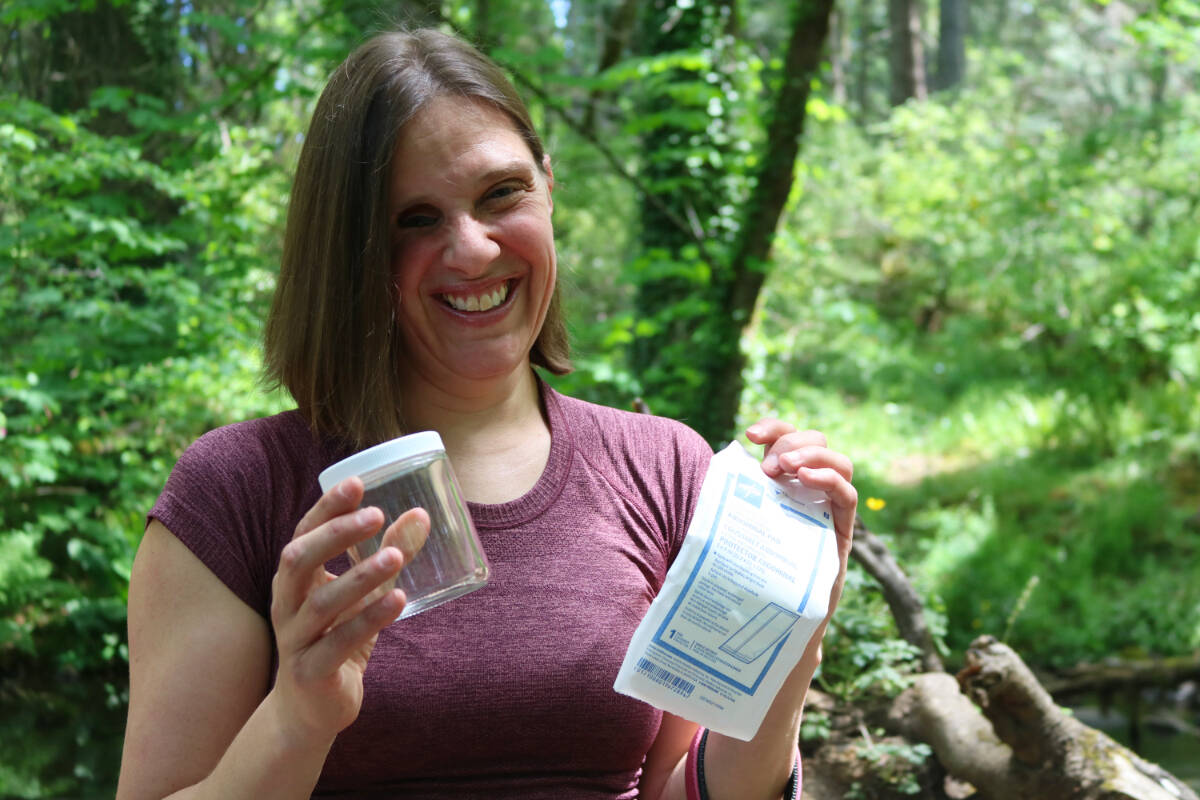 "Your scent is like a fingerprint essentially, no one's scent is the same. (Lucy's) been through training where we've even used identical twins and she can discriminate between them."
With the scent safely preserved, Tuomela receive a text message from the family, brought Lucy to sniff the swab, and went to look for the family's missing relative.
Tuomela's regular volunteer helpers were out of town so she asked a bystander to help guide her past any obstacles as they searched. Eventually, they found the missing person splashing in the lake.
"Part of the funny thing is when Lucy got close to the person she was trying to find, she started running until I ran with her, which I'm really glad I'm a triathlete because she was flying," said Tuomela. "I dropped the person that was helping me and I'm like 'oh no' – we go in the water and I don't know what's happening at all. Then she stopped and then the person we found started talking … Then my backup handler caught up and confirmed it was the right person. So it's a really big lesson in trusting your dog, I have to follow her. There's no other option."
While Tuomela and Lucy were able to find the missing woman within 40 minutes, the heat meant Lucy would have likely needed a break if the search continued any longer.
Tuomela hopes to train another dog so they'd be able to swap and rotate. She works with Paul Coley, a retired FBI agent, who runs a dog training centre out of Tallahassee, Fla. Tuomela contacted dog trainers across Victoria, around B.C. and across Canada looking for someone willing to teach her to train animals for scent trailing, but found a partner was hard to come by.
"I contacted other companies and other organizations, and they weren't really comfortable with me not being able to see, but I've worked with the guide dogs since 2002. That's just really kind of a skill of like reading your dog and listening to them and kind of being an active passenger in some ways."
Toumela runs True North Canine and hopes to get the word out about the service she can provide and encouraged more people to get the scent preservation kits, just in case.
"People from vulnerable populations should have them, but also outdoor adventurers too."
For now, she continues to train Lucy for at least four hours a week to keep her skills sharp.
"Lucy loves her job – when she found the person (Wednesday), she was prancing and very proud of herself."
---
@moreton_bailey
bailey.moreton@goldstreamgazette.com
Like us on Facebook and follow us on Twitter.