It felt like there were dragons under the floor.
That's how Nelson resident Fiona Richards describes the Sept. 8 earthquake in Morocco.
"They were just lifting the tiles and moving it around and the walls were shaking," she said. "It felt like the floor was moving under our feet. It was terrifying."
As of Tuesday morning more than 2,900 people were killed in by the 6.8-scale earthquake and 5,500 injured, mostly in the Atlas Mountains about 70 kilometres south of the city of Marrakesh.
Richards, her husband and two friends had just arrived in Marrakesh and checked into a guest house in the Medina, the oldest part of the ancient city.
"We were having a drink and having a laugh. We hadn't seen our friends in a long time. It was so nice, it was hot. And we could hear the call to prayer. It was just so exciting."
Then the rumbling started.
They huddled under a stone arch doorway in the kitchen, covering their heads with their arms.
"You could hear the buildings creaking and stretching — it was more of a feeling than the sound to be honest. But you could hear the screaming of the people because everything is so close together here. The streets are barely eight feet wide, if that."
Richards guesses the shaking lasted 30 seconds.
The arch held and their building remained largely intact, but with large cracks in the walls. They were surprised to come out uninjured.
Their Moroccan neighbours all ran out into the street, she said, because they know their buildings will collapse during an earthquake, and many of them did. The Canadian advice to stand under a doorway in an earthquake is unheard of in Morocco.
They decided to stay in their courtyard, which is open to the sky, then later went to bed. Their Moroccan neighbours all slept in the streets, parks and squares, in fear of further shaking.
The next morning she saw a lot of structural damage and few people with injuries.
"Some of them had bandages, but you know, they were walking around, they were going to work."
Richards said it was impossible to know what was happening beyond her immediate block because of the very narrow streets in the Medina. But there was no search and rescue, no stretchers and ambulances.
The next day they walked further afield and saw many people with wheelbarrows, shovels, donkeys and carts, moving the rubble from buildings that had uneven damage — some buildings destroyed, others intact, and "some of them hanging by a thread."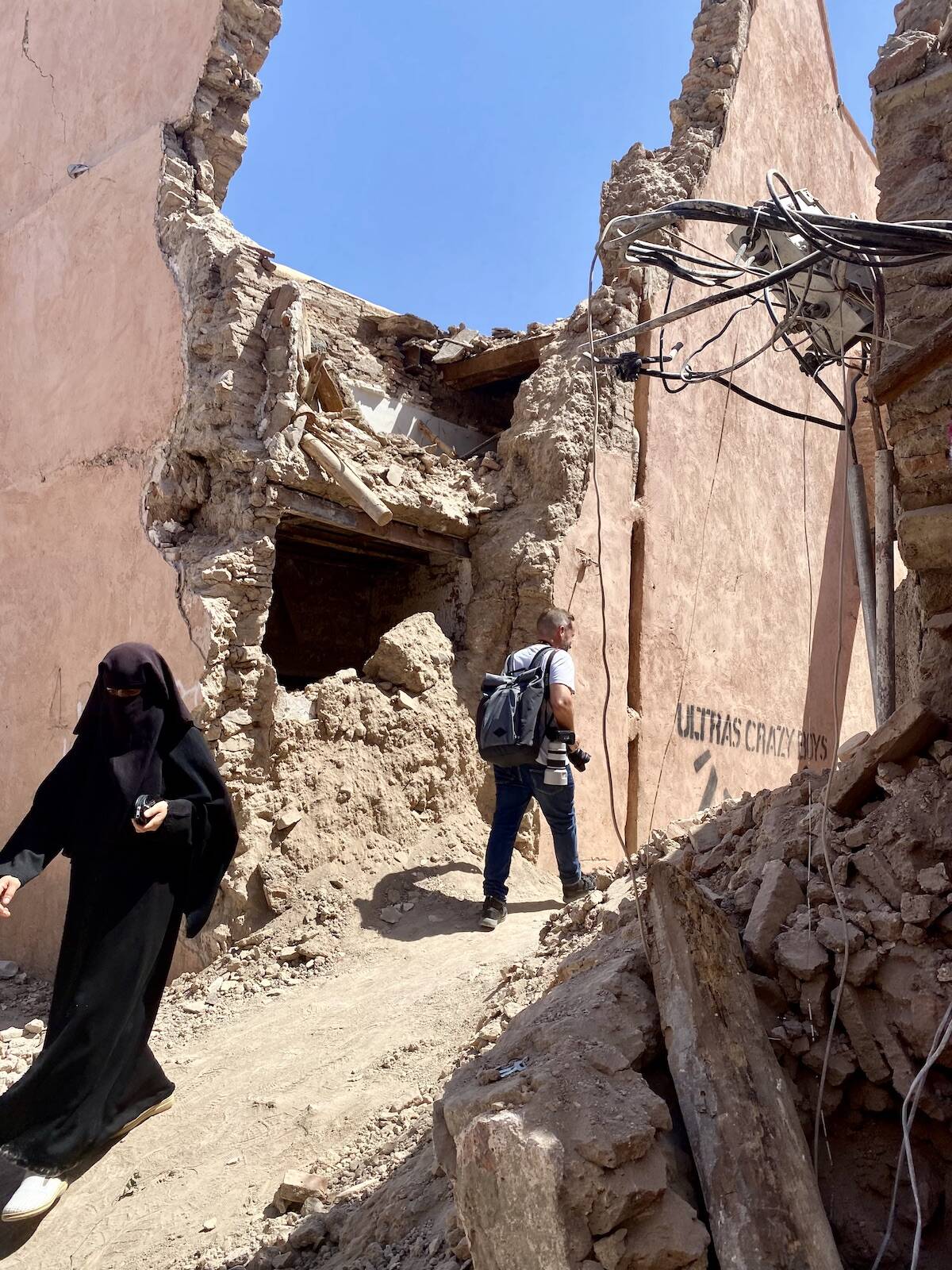 Should we leave?
They wondered if they should leave the country.
Richards asked a Moroccan couple who acted as guides for residents of their guest house. French is spoken by most Moroccans, and Richards and her husband and friends speak French, so they were able to have detailed conversations.
"We said, 'Should we leave? Is it disrespectful if we stay?' And they said, 'No, don't go, the people need you here.'"
They needed them to stay and be tourists. That's how most of the people in the Medina survive.
Richards tweeted about the earthquake and was immediately contacted by various Canadian media sources. Her message to the world was, "If you were planning to come to Morocco, these people need you."
Most of the damage and fatalities are in the villages near the epicentre in the Atlas Mountains, she said. In Marrakesh, there is damage and people are scared, but mostly they are trying to get on with their lives and businesses.
But the tourists have disappeared. In their guest house, the next three booked tourists had cancelled, so the owner has no income for the near future, and it is the same throughout the Medina.
Richards says she's buying from stores and market stalls and not haggling, and is met with nothing but appreciation: "Thank you for being here. We really need you."
She is critical of the international media for scaring people away from all of Morocco rather than one rural part of it.
"If they actually came here and spoke to the people in Marrakesh, they would see that the people are back at it, they're making their orange juice or making their coffees, they've got all their stuff out. And people are shopping and they're praying when the call to prayer comes on."
Richards and her husband and friends left for Spain on Sept. 13. They would like to stay longer, she said, but flights are hard to get because schedules are disrupted.
bill.metcalfe@nelsonstar.com
Sign up for the Nelson Star's newsletter here to have local stories delivered straight to your inbox every morning.