Nothing makes Aimee Watson so excited as a pile of fresh soil.
The Regional District of Central Kootenay's board chair is a green thumb and longtime food security advocate who at home uses a greenhouse to make soil for her garden.
As she stood nearby a massive pile of food and yard waste that had been diverted from a local landfill and processed into what will eventually become garden soil, Watson was suddenly excited to start planting.
"This to me is our climate change solution that we can really impact and have a huge difference on."
Watson spoke Friday as the RDCK unveiled its $2.5-million Central Compost Facility near Salmo. It's the second compost-specific site in the regional district, which also opened one near Creston in 2022. The new location will keep an estimated 4,000 tons of food waste from landfills as well as another 4,000 tons of yard waste.
The facility will take in organic materials collected curbside in Castlegar, as well as from the Ootischenia landfill south of Castlegar and the Grohman Narrows transfer station outside Nelson. Residents and businesses are also welcomed to take their compost to the site, located at 550 Emerald Road.
When it arrives, remaining trash is sifted out of the contents that are put into a large mixer. The resulting compost is then piled over long, aerated windrows — tubes with holes that have a fan at one end to provide oxygen and temperature control.
The compost is gradually turned over, and by the end of its cycle can be resold as garden soil. The RDCK expects to begin selling soil from the facility sometime next year.
Amy Wilson, the RDCK's resource recovery manager, said the new facility will remove 7,000 tons of CO2 equivalent, or greenhouse gases, annually. For comparison, Wilson said the RDCK's organizational CO2 output is about 8,000 tons.
"Something like this could quite quickly, with also the facility we have in Creston, could make the RDCK essentially carbon neutral."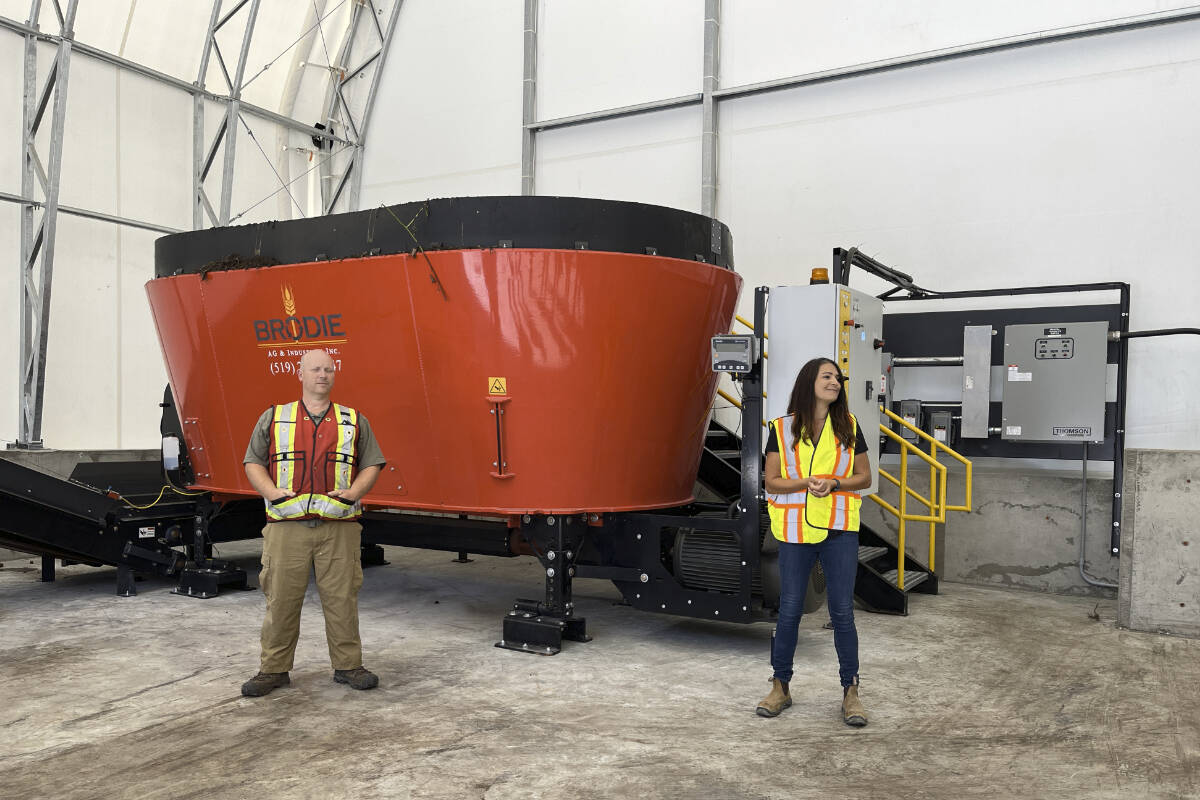 It's taken nearly a decade for the facility to take shape.
Watson said planning began in 2014, and required municipalities to sign on to ensure the site received enough material to be worth the investment. That occurred in 2019 when Nelson, Castlegar, Creston and the Regional District of Kootenay Boundary agreed to the plan.
The new facility, built on the site of the old Salmo landfill, was funded $1.536 million by the provincial and federal Organics Infrastructure Program, $20,000 from Columbia Basin Trust and the remainder from the RDCK.
The RDCK will next consider how to expand its organics collection. No rural areas have curbside compost pickup, but Area F on Nelson's North Shore will hold a referendum on in the coming months. Nakusp's landfill is to convert to a transfer station by 2025, and Wilson said planning is underway for a local compost option.
She also said the regional district will work to convince commercial and industrial sectors to send their organics to Salmo.
Diverting food waste to Salmo will also extend the lifespan of the RDCK's landfills, Watson said. Taking rotting food from landfills, which generates methane, and turning it into soil that captures carbon, is a major achievement in local climate change efforts, she added.
"Being able to do this is such a win on the grander environmental scale of what we can do versus what's still beyond our control."
@tyler_harper | tyler.harper@nelsonstar.com
Sign up for the Nelson Star's newsletter here to have local stories delivered straight to your inbox every morning.