The City of Langford has revoked the occupancy permit for a troubled apartment building – formerly known as Danbrook One – over safety concerns, the city announced, adding that residents were to vacate their homes immediately.
The rental building located at 2770 Claude Rd. – renamed as RidgeView Place – is owned by Centurion Apartment Properties Inc. and had the permit revoked "due to ongoing life safety concerns related to the structural design and performance of the building," the city said in a news release.
"This is the second time the City has taken action at this building as a result of serious issues identified by the Association of Professional Engineers and Geoscientists of the Province of BC (EGBC)," said the city in a statement.
Langford Mayor Scott Goodmanson announces residents are to vacate the residential building at 2770 Claude Road, formally known as Danbrook One, after the building is deemed unsafe for the second time @GoldstreamNews #yyj pic.twitter.com/AqolXb7TJs

— bailey (@moreton_bailey) April 24, 2023
Outside the building people were hurrying in and out, carrying boxes full of possessions while others walked around in a daze, calling relatives and trying to figure out where they would be sleeping that night. Centurion started notifying residents of RidgeView Place on Monday (April 24) about the situation.
"I don't know anything to be honest, but by the sounds of it we are not going to be able to live here anymore," said building resident J-C Roberge, who has lived in the building for nearly a year. "That's what we're told. But that f****** everybody because I don't have another place to live, most of us don't have another place to live."
Dennis MacDonald lives in the building with his adult daughter, whose son has autism.
"This kind of disruption, for a child who is autistic, is really, really serious. A change of pattern, a change of routine, is not something an autistic child wants to see."
MacDonald was holding a letter residents had been sent by Centurion saying residents' leases were now cancelled, with residents having to vacate their units.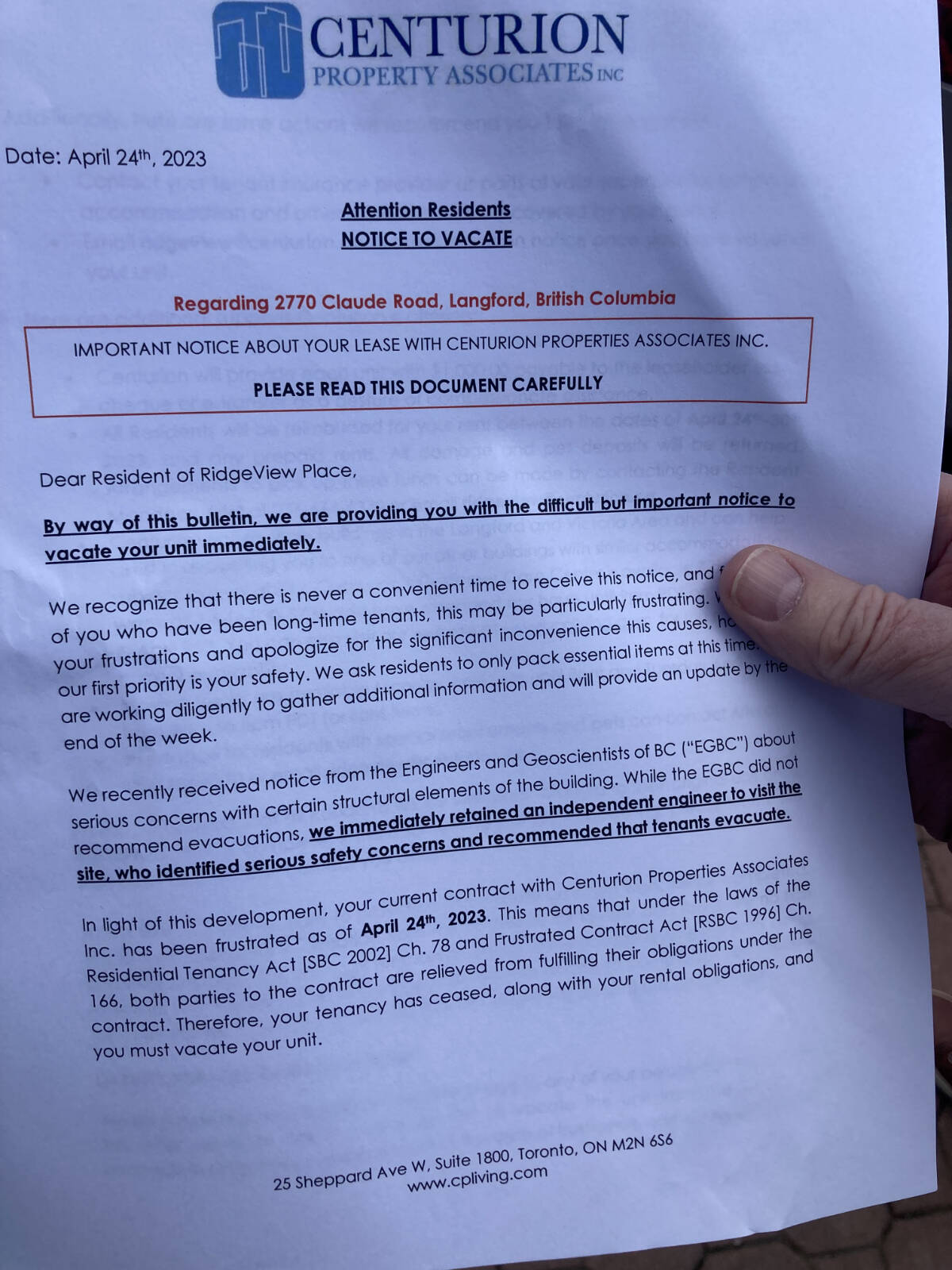 "…Our first priority is your safety. We ask residents to only pack essential items at this time and are working diligently to gather additional information and will provide an update by the end of the week," reads the letter.
Included in the letter was a list of hotels where building residents could book a room, with Centurion saying they'll cover the expenses.
"I've been here since July. They have told us nothing, absolutely nothing. They handed me a list of reasons why this was happening and a list of hotels with websites. I said 'I'm not going to go through a list of websites, get back to me with hotels you have booked in my name,'" said MacDonald. "I just said I want a hotel confirmed and I want it confirmed immediately. But this is so immoral to do this to people. It's just absolutely shocking and I don't know how they can call themselves developers."
"I'm just absolutely shocked. How does this sort of thing happen twice? Where was the city? Where were the inspectors? How come everybody missed this twice?" asked MacDonald, adding he'd not heard from the building manager and nobody from Centurion was at the 2770 Claude Road on Monday (April 24) to answer residents' questions.
When asked how she was feeling about the news, resident Jamee Coubrough, who has lived there for about six months said, "pretty pissed off – not going to lie. Like we deserve better. We pay our rent on time every month."
When asked what she was going to do next, she said, "God only knows."
The city says that on April 17, it and Centurion received a letter from the EGBC regarding a second investigation into the structural engineer of record for the remediation work undertaken by Centurion.
"The letter provides details of a variety of potential structural design issues that may not have been addressed by the original remediation and concluded that EGBC 'has received no evidence that a comprehensive review of the structural design of the Building, or of the as-built structure of the Building, was ever conducted for the Remediation.'"
On April 20, the city said it notified Centurion of its obligation to inform residents, provide an authenticated assessment from a third party Designated Professional Structural Engineer, registered and in good standing with EGBC, confirming that the building is safe to be occupied pending the completion of any temporary measures, and conduct a comprehensive Independent Structural Design review of the building and provide timelines for completion.
On April 23, Centurion notified the city that a third-party engineering firm had completed an initial visual inspection of the building and concluded that the structure is "unsafe" and, in the interest of public safety, "strongly recommend the evacuation of the building until a more detailed analysis can be conducted," said the city.
"As a result, the City made the decision to revoke the occupancy permit and instructed Centurion to notify residents immediately."
Building resident Jamee Coubrough found out she'd lost her home less than an hour ago @GoldstreamNews #yyj pic.twitter.com/Y5OSgjeXML

— bailey (@moreton_bailey) April 24, 2023
When Danbrook One was deemed unsafe in 2019 and residents were evacuated, Langford paid for hotel stays for displaced residents via a city emergency fund. Speaking during a press conference on Monday, Langford Mayor Scott Goodmanson emphasized it was Centurion's responsibility to ensure arrangements are made for its tenants.
"We've had good conversations and encouraging conversations, with what they are setting up right now and what they're putting forward. It should be noted that this is the building owner's responsibility and they have stepped up and they're working with that and we're working with them to ensure that no one is left out in the cold."
"To the residents of RidgeView place, I want you to know that the city is here for you. Anyone with questions or concerns should reach out to the city."
"The next steps, staff will be working late into the night on this and we are working and we'll be working hand in hand with Centurion just to make sure that immediately, people are taken care of over these first few nights."
Two engineers who worked on the project have since lost their credentials to practice engineering in B.C.
A previous review has found that the building's "design was determined not to meet building code requirements, especially those around earthquake resistance."
"It is the obligation of the building owner (Centurion) and structural engineer of record to ensure that authenticated engineering designs and schedules meet the professional standards of EGBC and the BC Building Code," Langford said in the April 24 statement. "Local governments across the region and the province rely upon the professional integrity and competencies guaranteed in the professional engineers', or architects, sign-off for project design and build submissions, often referred to as the 'Professional Reliance Model.'"
More information for impacted residents can be found on the City of Langford's website: langford.ca/ridgeview-place.