John Vaillant's new book Fire Weather: The Making of a Beast is more than just a series of dramatic interviews with Fort McMurray residents about their terrifying escape from the wildfire that destroyed 2,400 homes in 2016.
If the book contained only those stories, it would already rival Vaillant's two bestsellers, The Golden Spruce and The Tiger, which established his reputation for writing page-turner non-fiction.
Fire Weather is also more than a series of pained, frank interviews with the people who fought the kind of fire they had never seen or imagined before. If the book were only that, it would be a gripping wake-up call for the public, to help us understand and prepare for a new kind of wildfire.
The books weaves those two strands together with a political and scientific history of the bitumen industry in Alberta, an examination of the physics of a new kind of wildfire, and an impassioned take-down of the fossil fuel companies' conscious, ongoing refusal to control emissions.
But the heart of the narrative is Vaillant's vivid attention to the stories of the residents and firefighters in Fort McMurray.
Vaillant will speak twice in Nelson in the coming week at the Capitol Theatre, once on Sept. 14 sponsored by the Mir Centre for Peace, and again as part of a panel of four writers at the Elephant Mountain Literary Festival on Sept. 15.
A historical event
The Fort McMurray wildfire was the world's biggest, most rapid evacuation of a city due to fire since the Second World War, Vaillant said in an interview with the Nelson Star. It is Canada's most expensive weather-related event and the one with the most buildings lost. It is also, along with New Orleans during Hurricane Katrina in 2005, the only city in North America to be completely evacuated.
"This is really big, historic stuff," he said, but the history does not stop there. He started noticing other precedents set in real time while the Fort McMurray fire was still vaporizing houses.
In northern Alberta in May, he said, a typical temperature is about 10 degrees, with humidity at 30 or 40 per cent.
"But Fort McMurray had southern California temperatures and Death Valley humidity … This was a vision of the future."
The fire overwhelmed the town with blinding speed, he said, despite an unusually capable, stable, and well-equipped population accustomed to doing practical things on an industrial level.
"And they were still run out of town. They ran for their lives. It was not because they were not brave or prepared. It was because the fire was so big. They said they had never seen anything like it, and the thing is, none of us had."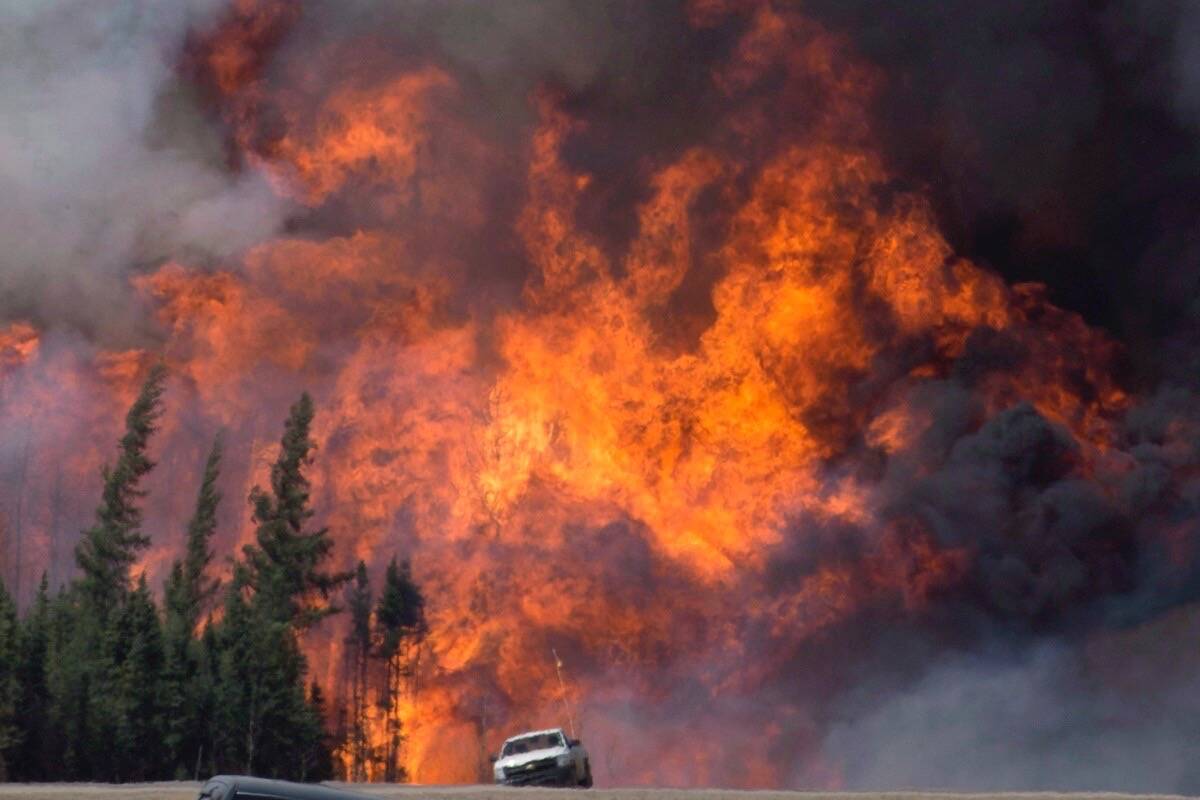 A wave of flame
What they experienced was a fire that resembled a "wave of flame," "flowing like lava," with "wind-driven embers showering bumper-to-bumper traffic" whose vehicles moved "at the speed of a Tim Hortons drive-thru" along the single highway exit past houses burning to the ground in five minutes because of 500 C heat that melted tires and created interior vehicle temperatures of 60 C.
It was a 21st century fire that was impossible to fight using 20th century methods and mindsets. As in many extreme fires in other places in this century — Portugal, Greece, Australia and California, as well as closer to home at Slave Lake in 2013 — there was a spontaneous transition from fire fighting operation to a life saving operation.
"This has become a hallmark of 21st century fires," Vaillant said.
One of the most arresting dramas in the book is the story of Paul Ayaerst, who, faced with a wall of flame on his residential block, and whose family had already fled the house in one of their vehicles, was inexplicably reluctant to leave. He fought off a police officer trying to pull him out of his house. When he eventually reached the sidewalk, with fire devouring homes a few doors down, he ran back to lock his door. Then he hesitated, unable to decide whether to take his truck or his motorcycle.
"For men in Fort McMurray who make their living in and around machines, their motorcycles, vintage cars, and snowmobiles are not small details," Vaillant writes in Fire Weather.
"Shedding tears over a Harley-Davidson is not unheard of here. But on May 3, this deep allegiance to the internal combustion engine posed a major problem: residents owned so many of them … that it was impossible to drive them all out. There is an inescapable irony to Ayaerst's dilemma: the same combustive energy that had thrilled, empowered and enriched them was now manifesting itself in the most primal, potent and destructive way imaginable."
It could happen anywhere
That excerpt from Fire Weather brings the reader to one of the central themes of the book: the fire in the forest and the burning gasoline in our internal combustion engines are in a complex relationship with one another. A heating planet caused the wildfire, and the fire in our engines, sourced in the oil sands, caused the emissions that caused the hotter weather.
"When you're talking about fossil fuel energy, you're really talking about fire energy. And if you're talking about fire energy, that means you're also talking about CO2," Vaillant said.
Fire Weather dives into this theme by tracing the history of our use of fossil fuels for combustion, starting with oil lamps and the first internal combustion engine, and linking this to the history of the oil sands and of especially of bitumen.
Vaillant recounts major fossil fuel companies' acceptance 60 years ago that their emissions would warm and harm the planet, and their subsequent conscious decision to ignore the threat and keep on producing. He quotes Shell CEO Ben van Buerden from a Time magazine article in 2019: "Everybody knew. And somehow we all ignored it."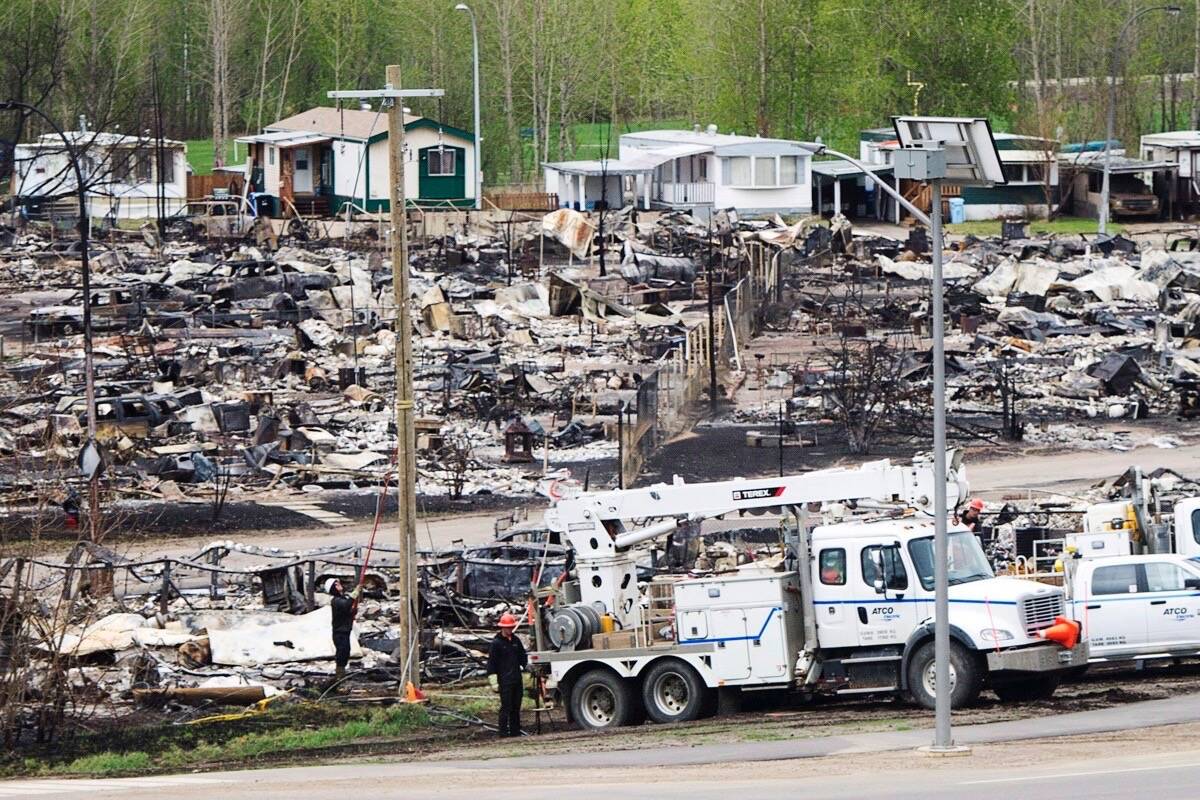 While admitting that he is not a forester or a trained firefighter, Vaillant says there are some things fire fighters and the public are beginning to learn from Fort McMurray and similar fires.
Fire guards, sprinkler systems and water bombing are useful tools but we cannot depend on them once a fire reaches levels of extreme heat and speed.
Pre-emptive evacuations should be the norm, as has happened this year in Yellowknife.
Every town should have more than one escape route.
We need to ramp up fire-smarting our towns and buildings more than ever.
There should be more use of prescribed burns, including Indigenous burning practices.
Timber companies should stop using herbicides to get rid of deciduous trees, which are relatively fire resistant and should be encouraged, not eradicated.
Because forests have dried out over many decades as a result of increasing temperatures and because of fire suppression, logging, and tree plantations, our forests will never go back to the way they were in the early 20th century.
Vaillant wants us to see his book as a public service announcement.
"It's a heads up for anyone who will read it. What happened in Fort McMurray can happen in Nelson. And it could absolutely happen in Kitsilano, where I live."
Tickets for Vaillant's Sept. 14 talk and his Sept. 15 group reading, both at 7 p.m. at the Capitol Theatre, can be purchased at www.capitoltheatre.ca.
bill.metcalfe@nelsonstar.com
Sign up for the Nelson Star's newsletter here to have local stories delivered straight to your inbox every morning.