Each year an increasing number of Canadians are falling victim to rental scams, and earlier this month an American couple looking for accommodations in Revelstoke were the latest to be duped.
These fraudulent schemes happen when would-be renters in Canada's increasingly tight rental market decide to send money to someone they meet through an online listing for a rental unit or apartment, only to find out that the place they were hoping to move into doesn't exist.
Finding a place
Devon Bernhagen and her partner visited Revelstoke earlier this winter. They enjoyed the experience so much that they decided they wanted the community to be a part of their future and that a month-long rental would give them the introduction they needed.
On April 2023, they made a post on the Revy Rentals Facebook page — a popular page for would-be renters and landlords in the community to share their information about finding an apartment.
Martyn Damien messaged Bernhagen shortly after she made the post. "Hey, I saw your post in the Revy Rental group," he said. "We have a one-bedroom and den available in town."
On the surface, Martyn looked normal. According to his Facebook profile, he's a family man from Fernie who attended Carl Albert High School before getting married and moving to Kelowna. He can be seen smiling, giving a thumbs-up next to a woman in his profile picture. Now, he's trying his hand in the real-estate game and renting out a place he owns on Mackenzie Avenue in Revelstoke.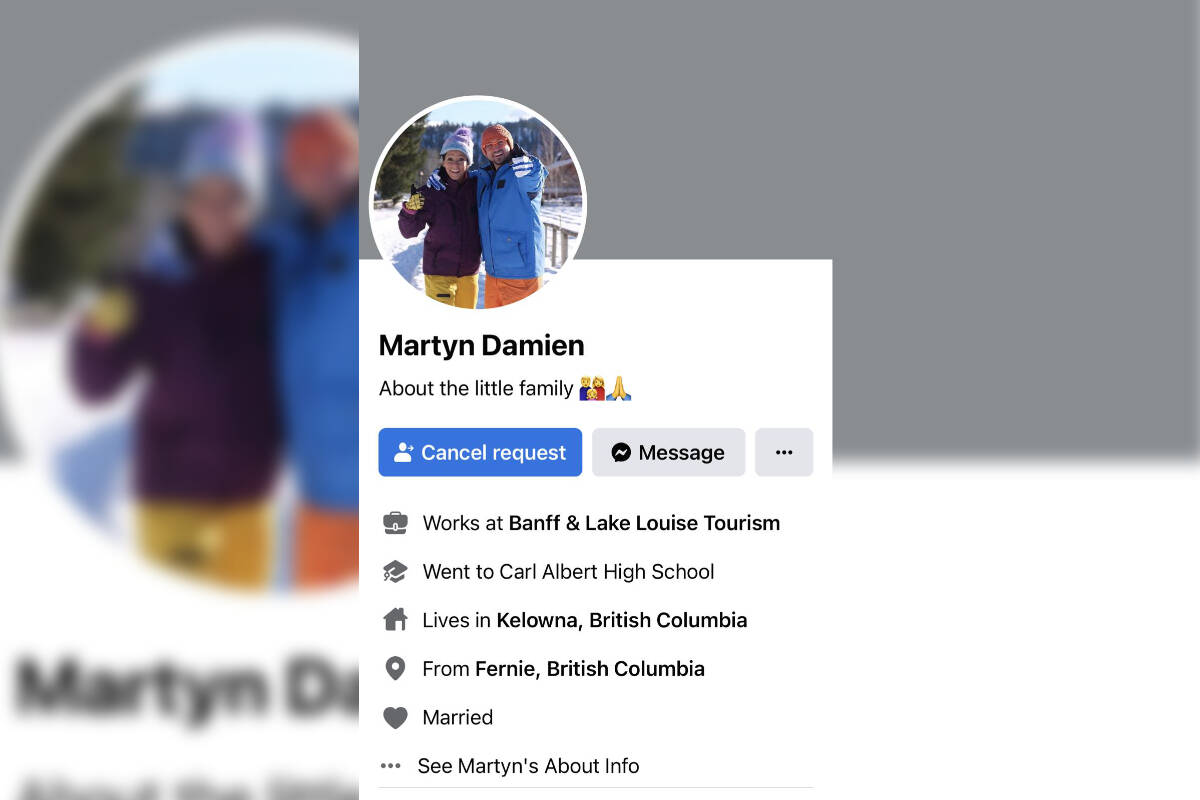 The apartment seemed perfect: rent was $1,700 a month, the place was pet friendly, it had underground parking for their car, and Martyn even sent along plenty of photos. According to Bernhagen, nothing seemed fishy.
She expressed her interest in renting from him, and Martyn sent along a normal-looking contract from his lawyer, who also had an address in Revelstoke.
She sent along copies of their passports, proof of income, the money for the rental, and even the dimensions of their vehicle so Martyn could confirm that it would fit in the underground parking garage.
"I know how quick rentals can go in mountain towns," remarked Bernhagen.
Bernhagen said Martyn's lawyer even went as far as performing a background check on the couple to confirm they would be good tenants.
A few months went by without any problems. Bernhagen messaged Martyn at the beginning of July to let him know that they would be arriving soon. Martyn told her that his son would be there to greet them as they checked in and that the place was ready for them.
The couple pulled up to their would-be rental on Mackenzie Ave., and they quickly realized that something was off.
Signs in the lobby of the building indicated that the apartments didn't allow pets. Worse than that, the name on the buzzer didn't match Martyn's description.
They buzzed the apartment, and an elderly woman answered. Confused, the woman said, "I live here. I don't know anyone by that name."
Stunned, they remembered that the lawyer also listed his address. They decided to head to his place to see if he had any insight into Martyn's whereabouts.
When they got there, another confused person answered.
"Okay, maybe we did get scammed," thought Bernhagen.
Martyn stopped responding to Bernhagen after she arrived in Revelstoke, and as it turns out, was never a real person in the first place.
Martyn was a scammer.
Too good to be true
Fake ads online cost Canadians millions of dollars every year, and for the most part, they never see that money again. According to the Canadian Anti-Fraud Centre, in 2021, people in Canada lost $12.3 million in merchandise fraud, which includes rental scams.
For would-be renters, finding a place that is affordable and fits your needs and lifestyle is so rare that oftentimes it may feel necessary to jump into something without doing any research, especially in mountain towns like Revelstoke.
A rental market report released by the Canada Mortgage and Housing Corporation (CMHC) in January of this year concluded that vacancy rates in the country are the lowest they've been in 20 years, with the number of affordable rental units in B.C. 'too low to report'.
A quick scan of Revy Rentals gives insight into the state of local rentals. Each listing, of which there have been 15 in the last seven days, has multiple comments asking if the listing is still available.
Each listing has a name attached to it. You can click on the person's name and find out limited information about who they are. Like in the case of Martyn Damien, you can see where they live, where they went to school, and maybe even where they work — but this information can be easily faked.
Bernhagen said she later took a closer look at Martyn's profile picture, which looked normal enough, and realized something was off. After reverse-image searching the image, she discovered that the person in the photo, smiling and waving, wasn't a Revelstoke landlord at all. It was Stevin John - also known as Blippi - a popular American children's entertainer.
While Blippi is an extremely popular figure for kids on the internet, which more than 18 million subscribers on YouTube, he isn't exactly an A-list celebrity that adults would recognize, making the photo he used on his profile pretty anonymous.
"I should have investigated, but I didn't, because I wanted it to be that easy," said Bernhagen.
She never got her money back and was forced to depart Revelstoke without ever getting the chance to spend the time she wanted in the community.
Investigating the criminals
Of course, scamming somebody out of their money in this fashion is illegal and should be reported to the police.
According to Sgt. Chris Dodds of the Revelstoke RCMP, cases like the one Bernhagen found herself in are rarely reported to authorities, and even when they are, are very difficult to investigate.
"It's really hard for us to investigate because it involves foreign banks and institutions that [local authorities] can't access," said Dodds.
Additionally, even though the financial implications, being one month's rent or more depending on the situation, for individuals are high, in the grand scheme of things, are small amounts compared to commercial crime.
"The criminals know that it's hard for us to investigate," said Dodds.
He added that scammers like Martyn are rarely locals to the area where they are pretending to be renting a place. Dodds, who spent a portion of his career in Whistler, said that during his time in that community, he would regularly receive calls where a scammer would post a condo for rent, take the money, and then disappear.
Unlike identity theft, pretending to list an apartment for rent is not very difficult. Information about someone's apartment is easy to find if it's ever been listed in the past, and even pictures of the interior are often readily available. Dodds said that they may even take the information from another rental in another city, use those photos and information, but apply a local address to the listing and pretend they own the apartment.
Additionally, if personal information and identification are given to a scammer, it's next to impossible to retrieve that information or keep it from being spread elsewhere.
"My advice would be to only rent through established companies in the community and to not send e-transfers to unknown recipients," said Dodds. "Once an e-transfer has been sent, it cannot be reversed and it is very hard for police to try and trace where those funds go, especially if they transfer outside of Canada. I would also recommend that if someone is asking to be paid for something in either Bitcoin or gift cards, it is likely a scam. No legitimate company will ask to be paid in gift cards and very few have a bitcoin option for payment."
Silver lining
After suffering from the experience, Bernhagen made a post on the Revelstoke Community Facebook page to warn others in the community of Martyn and other scammers.
At first, she was worried that commenters would scold her for her mistake, but instead, she was met with an out-pour of understanding, sympathy and support from locals.
Bernhagen said that she still wants to live in Revelstoke someday.
"We still love it, every time we come there it's so nice," said Bernhagen.
Next time they will take extra precautions before sending anyone money.
---
@josh_piercey
josh.piercey@revelstokereview.com
Like us on Facebook and follow us on Twitter.

and subscribe to our daily newsletter.