Three Greater Trail products were selected at the 2023 Western Hockey League U16 Prospects Draft on Thursday, May 11.
Trail's Owen McCarthy, Brayden Tremblay from Fruitvale, and Maddox Ghanda of Trail were all drafted by Western Hockey League teams in what was a banner year for the Canadian Sports School Hockey League (CSSHL).
McCarthy was selected third pick in the fourth round, 69th overall by the Victoria Royals and played defence with the Rink Hockey Academy in Kelowna last season counting 22 points and 22 penalty minutes in 28 games.
"Owen is a the type of defenceman attackers don't enjoy playing against," said J.F. Best, Royals Assistant GM and Director of Player Personnel. "He is a smooth skater who takes good angles to reduces time and space. It's clear that he loves to take on the best players and shut them down. With the puck, he is a deceptive passer with the ability to hit narrow seems on the offensive blueline."
Tremblay, a six-foot-two defenceman, went in the sixth round, 126th overall and was selected by the Vancouver Giants. Tremblay played for the U15 West Kootenay Crusaders in BC Hockey's AA Zone League last season scoring 10 goals and 27 points in 23 games with 10 penalty minutes.
"We're proud to announce Brayden Tremblay as our 126th Overall Selection in the draft!" said the Giants in a release.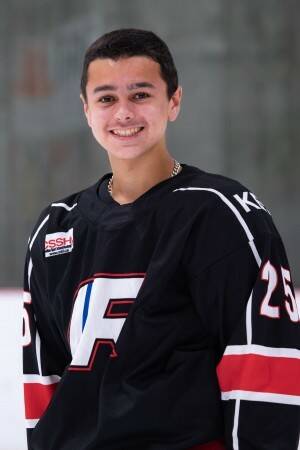 Ghanda, a skilled forward, was picked 10th by the Brandon Wheat Kings in the seventh round, 142nd overall. Ghanda was a teammate of McCarthy at the Rink Academy and tallied 15 goals and 47 points in 27 games last season.
"Maddox has hockey sense and hands," said Brandon's head of player personnel Chris Moulton. "He is very smart and does the little things that most people don't notice. He controls the puck, he has tons of puck poise, he is creative, yet he is not afraid to get involved or push back in those tough areas."
The first three rounds of the 2023 WHL Prospects Draft featured 30 players selected from the CSSHL, comprising 45 per cent of the total. In all, 85 players from the CSSHL were chosen.
With the first-overall pick in the 2023 WHL Prospects Draft, the Prince Albert Raiders chose defenceman Daxon Rudolph of Lacombe, Alta. Rudolph played with Northern Alberta Xtreme U15 Prep.
In total, 232 players were selected by WHL member Clubs, including 128 forwards, 88 defencemen, and 16 goaltenders.
Alberta led all provincial branches with 93 players selected. A total of 50 players from B.C. were chosen, with another 44 players coming from Saskatchewan. Manitoba saw 38 players selected.
Only seven players were selected from the United States, after 44 American-born players were taken in the 2023 WHL U.S. Priority Draft on Wednesday.
Players eligible for the 2023 WHL Prospects Draft were 2008-born players residing in Alberta, B.C., Manitoba, Saskatchewan, Northwest Territories, Yukon, Alaska, Arizona, California, Colorado, Hawaii, Idaho, Kansas, Minnesota, Montana, Nebraska, Nevada, New Mexico, North Dakota, Oklahoma, Oregon, South Dakota, Texas, Utah, Washington, and Wyoming.