"These ain't your nana's bandanas."
That's the tagline Kathy Mackey of Chilliwack uses to describe her custom-made pet accessories. She's the designer and creator of Simply Fetching Pet Designs.
"'Bandana' is now the 'B' word – we do not use that here. These are neckwear… sounds way more important," she said with a laugh.
Mackey will be selling her handmade items at the 151st annual Chilliwack Fair Aug. 11 to 13.
Spread across the table in front of her on a sunny summer afternoon is a slew of neckwear for dogs and even some for cats.
As Mackey mentioned, they're not your standard, run-of-the-mill bandanas. These are handmade creations and each one is unique. Themes include: western, floral, stars, skulls and crossbones, dinosaurs, military, sugar skulls, sports and more. Her Harley Davidson-themed ones are called 'bad-nanas.'
"They're all about fun, and fashion and showing off," she said. "I have not run out of ideas yet. I don't know how, but I just haven't."
She uses all sorts of fabric including faux leather and suede, flannel, denim, and fabric by Indigenous artists such as Cree designer Linda Lavallee.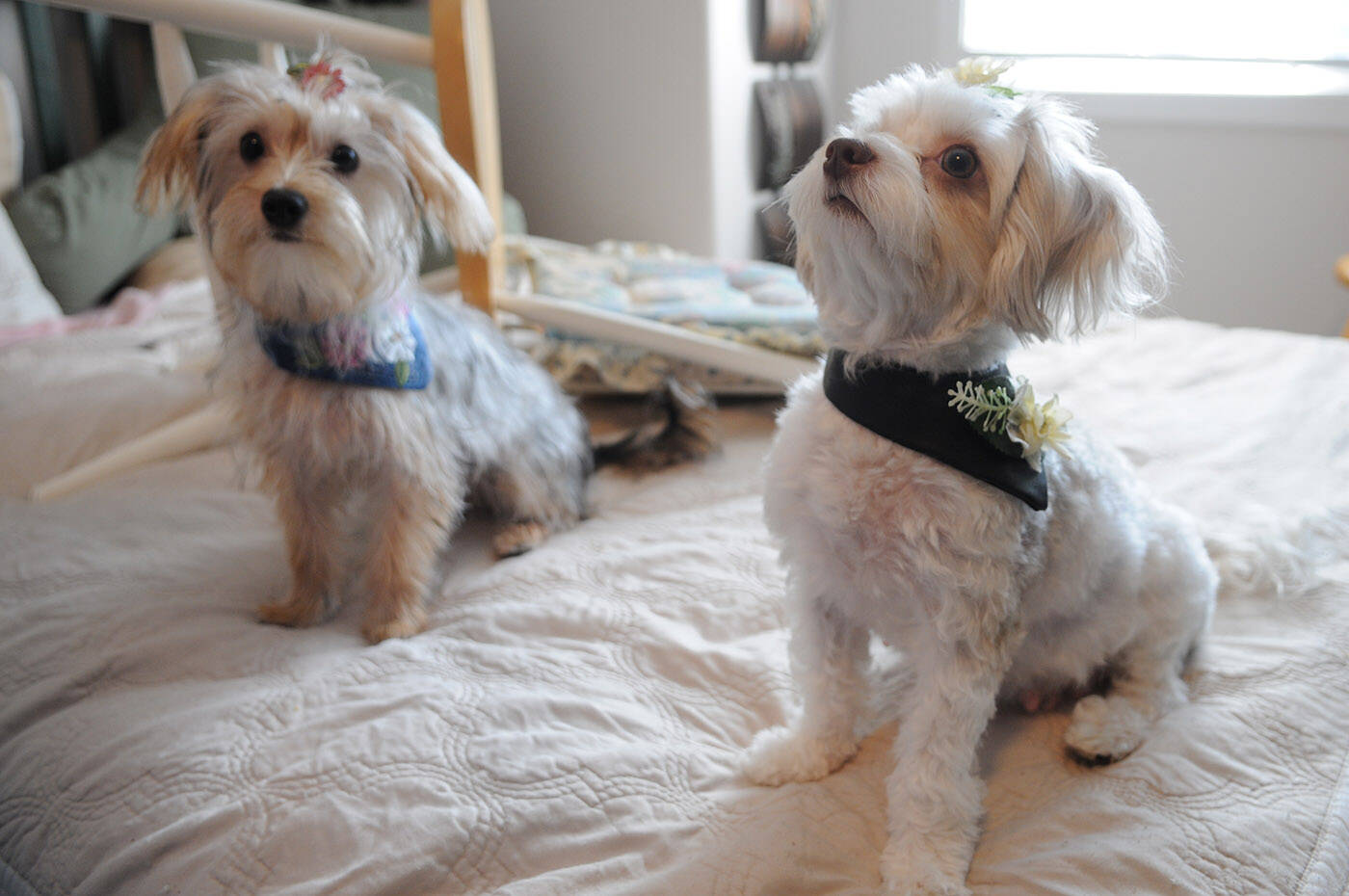 For a long time, Mackey has loved to craft and do embroidery, but if you asked her about a year and a half ago how to thread a sewing machine, she wouldn't have the answer.
"I'd never sewn in my life," she said. "I went online – which is another thing I just learned how to do – to see what's out there to get some ideas. In 2023 there still is nothing out there but bandanas. You tie them in a knot and they get all these wrinkles."
She said she was blown away that she couldn't find any pet neckwear that wasn't a tie-up bandana, so she decided to start her own business.
Simply Fetching Pet Designs neckwear is made of three layers – the feature fabric at the front, a liner at the back, and fusing in the middle. If you scrunch it up into a ball, it springs back into it original shape.
"They always retain their shape," she said added that they are quite durable. "It all looks so fragile, but it isn't."
Each one is adjustable and has a velcro closure. They are to be hand washed in cold water and dried flat.
She uses buttons, beads, fringes, lace and other embellishments. Mackey adds a "little something special" on the back of each piece and each one has a matching clip/barrette, she said.
There are Elvis ones, Minion ones, and some have little pockets made from old kids' jeans which are meant to hold dog treats.
Styles range from sparkly rhinestones to motorcycles.
Her business is on Facebook and Instagram. For a 69-year-old who recently gave up her flip phone, learned how to sew and use the internet, Mackey's pet neckwear business is pretty impressive.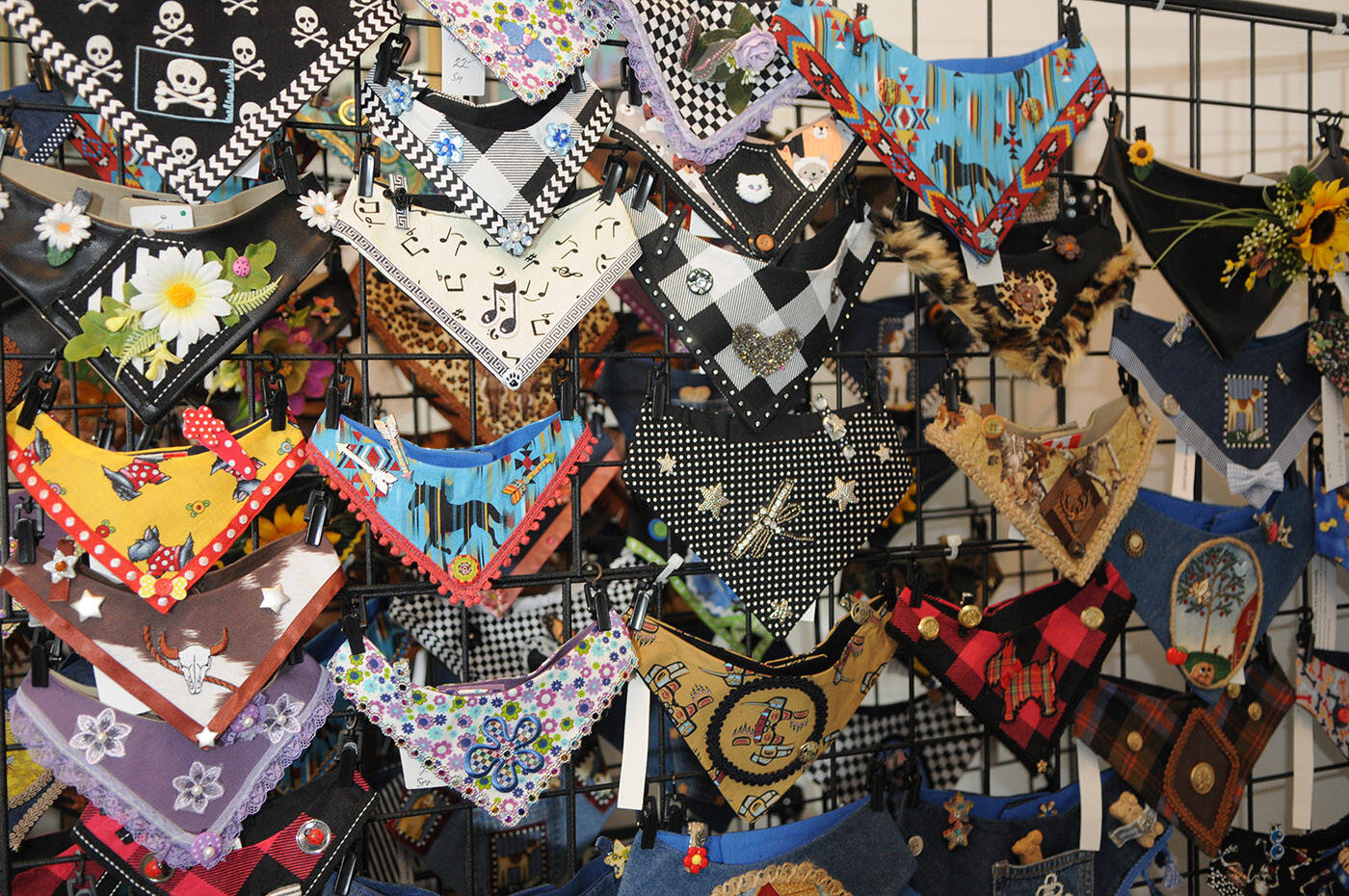 Simply Fetching Pet Designs has been around for a little more than a year, but almost nobody has seen her work.
Mackey has Crohn's disease and it was a severe flareup last year just before the Chilliwack Fair that put the kibosh on what would have been her first hometown show. She ended up in the hospital for more than a month.
Last fall, she had a booth at a dog show in Chilliwack which did not go well. She later realized sales were low because people at dog shows are breed-specific and none of her neckwear was made to highlight one type of dog.
"They are Bernese mountain dog people, they are poodle people, they are chow people… that's all they care about," she said about folks who compete at dog shows. "They don't care about cute and colourful."
But, she said she always looks on the positive side of things. She had great feedback at the dog show about her work, and she figured she was simply at the wrong event.
"That's why I'm looking forward to the fair, it's family oriented," Mackey said. "I'm not missing this year."
Mackey will have her booth set up at the Chilliwack Fair from Aug. 11 to 13 at Chilliwack Heritage Park with more than 300 neckwear pieces for sale. Prices range from $14 to $34. She does custom designs on request, including for weddings.
For more, check out Simply Fetching Pet Designs on Facebook and Instagram (instagram.com/simplyfetchingpetdesigns), call/text 604-703-5858 or email a1a@telus.net.
---
Do you have something else we should report on?
Email: jenna.hauck@theprogress.com
Twitter: @PhotoJennalism