For transporting families, on or off the main thoroughfares, the Ascent is Subaru's roomiest go-to model.
The Indiana-built utility vehicle, which arrived for 2019, was updated inside and out for the 2023 model year. All key mechanical elements were basically unaffected, including the all-wheel-drive system with hill-descent control that prevents runaway situations.
The Ascent can hold up to eight adult-sized passengers, including accommodations for three seated in the third row. Total interior volume is roughly the same as that of the Honda Pilot and the Hyundai Palisade, but it's less that what you'll find in the Chevrolet Traverse and the Volkswagen Atlas.
Most noticeable is the Ascent's revised nose and grille, which appear more muscular. The headlights and taillights are also new.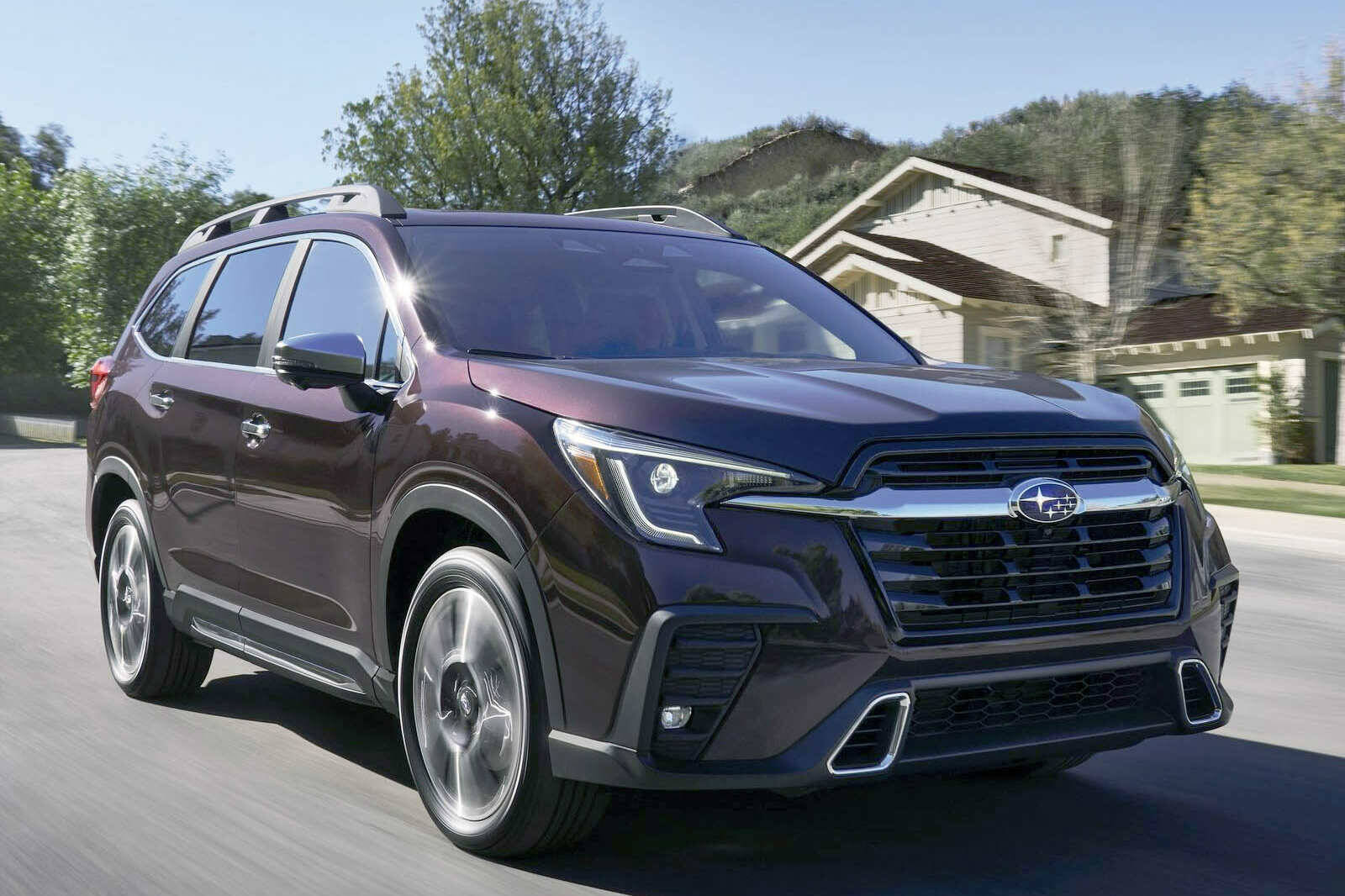 The blacked-out fender surrounds and protective lower side cladding continue to hint at the Ascent's off-trail capability, which is backed up by 8.7 inches (22 centimetres) of rut-clearing ground clearance.
The interior has a standard second-row bench seat, but available are two high-back bucket seats that can slide fore and aft to improve access to the third row. Although the rear seat is rated for three passengers, it's a tight squeeze for larger riders. Regardless of configuration, all Ascents come with 19 cupholders.
When the second and third rows are folded, there's sufficient flat load floor available for reasonable amounts of luggage, groceries and other cargo.
For 2023, the updated cabin receives a 11.6-inch infotainment screen that's larger than the previous 6.5- and 8.0-inch versions. It's also relatively straightforward, with clearly marked operations and, thankfully, it has a physical volume knob. The Ascent also sticks with a traditional console shifter.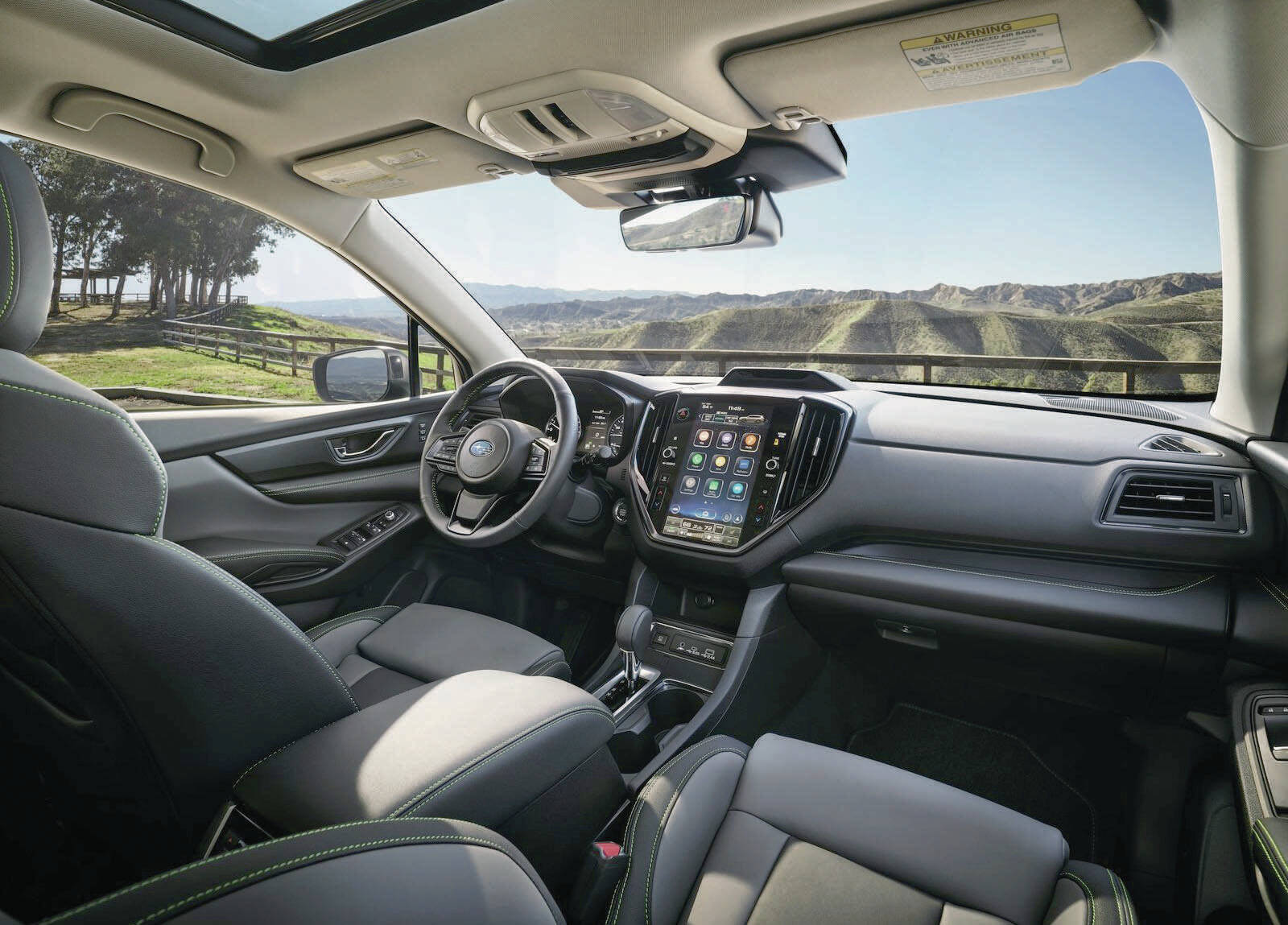 The Ascent's only engine is a turbocharged 2.4-litre four-cylinder that puts out 260 horsepower and 277 pound-feet of torque. The accompanying continuously variable transmission has eight steps that can be manually controlled by paddle shifters located behind steering wheel.
Fuel consumption is rated at 12.3 l/100 km in city driving, 9.4 l/100 km on the highway and 11.0 combined. Those values will undoubtedly shrink if you take advantage of the vehicle's 5,000-pound (2,270-kilogram) towing capability, as they will if you have a heavy right foot.
At idle, the horizontally opposed four-cylinder engine makes its presence known with muted chattering sounds, but nothing overly intrusive thanks to a well-insulated passenger compartment. It's when accelerating at highway speeds that the higher-revving noises from the engine become louder.
In typical around-town driving, the Ascent has a small but noticeable gap in the throttle response. The tendency is to overcompensate with the pedal and that leads to a sudden lurch forward when the turbocharger wakes up. You need to adjust your driving style accordingly.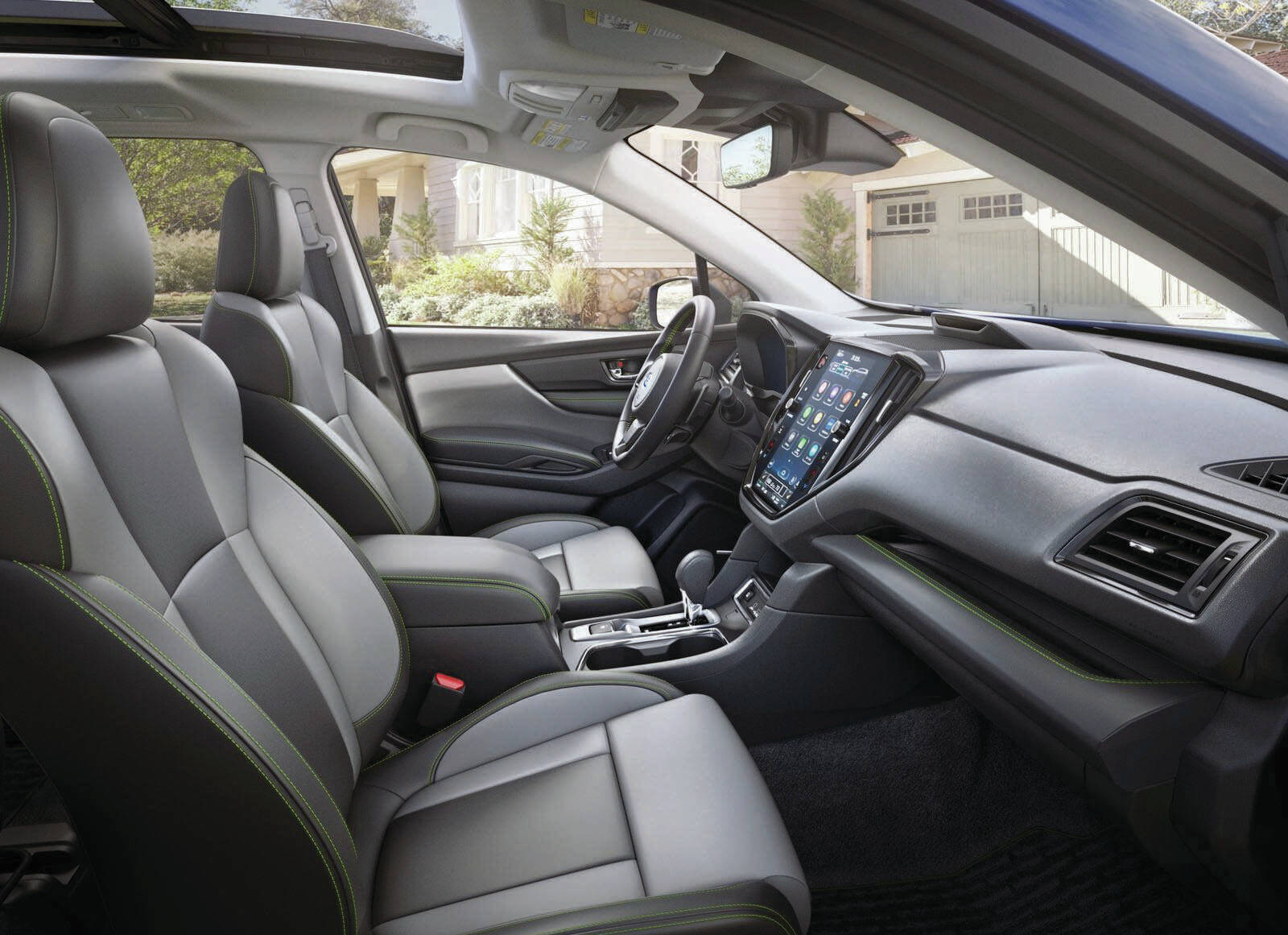 The suspension does a terrific job absorbing rough surfaces without unduly upsetting directional stability or ride comfort. The steering also feels precise; the Ascent tracks straight and true on the highway.
The base Convenience trim starts at $43,550, including destination charges. That fee includes plenty of standard content plus tri-zone climate control, 18-inch alloy wheels and a range of active-safety technologies, including autonomous emergency braking and active cruise control.
The Touring gets a panoramic sunroof, power liftgate, rear-seat climate controls and heated front seats. Blind-spot detection, rear cross-traffic alert and lane-change assist are also added. Second-row captain's chairs are optional with the Touring but are standard in the Onyx.
The Limited offers steering-responsive (left-right pivoting) headlights, 20-inch wheels and 14-speaker Harmon Kardon-brand sound system.
The top-end Premier includes-leather seats and a surround-view camera monitor.
Subaru has garnered an enviable reputation for offering durable, go-anywhere vehicles that perform with a minimum of fuss while delivering significant capability over a variety of terrain. This notoriety extends to the rugged and roomy 2023 Ascent, which should be more appealing to the brand's existing fan base as well as new buyers.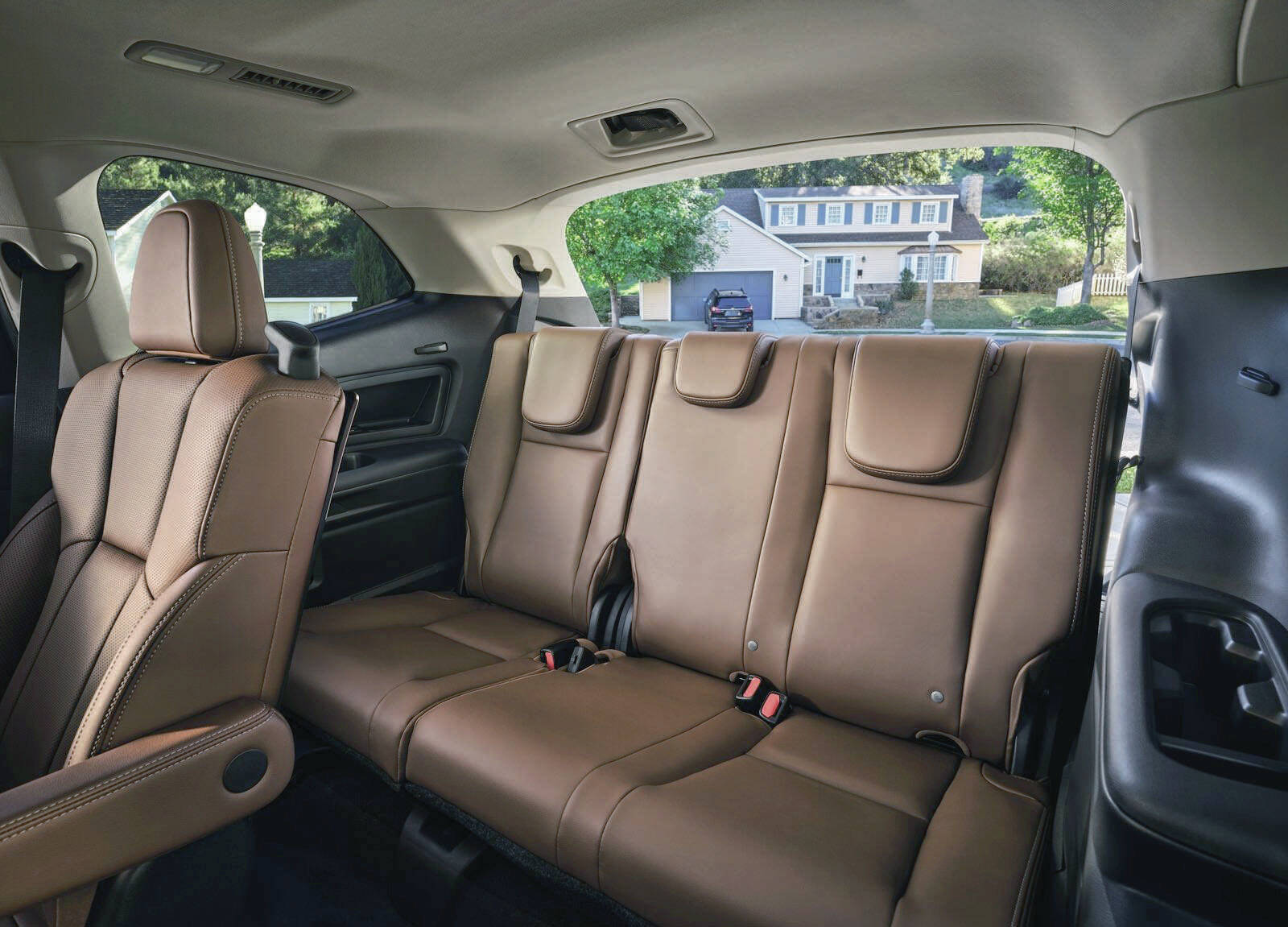 What you should know: 2023 Subaru Ascent
Type: All-wheel-drive midsize utility vehicle
Engine (h.p.): 2.4-litre four-cylinder, turbocharged (260)
Transmission: Continuously variable (CVT)
Market position: Subaru's largest model means that buyers, as their needs grow, do not have to leave the brand to get a vehicle with three rows of seats. And they don't have to sacrifice any capability.
Points: Mild exterior restyling improves on the original design. • The larger standard touch-screen is user-friendly. • The standard turbo four-cylinder engine makes reasonable, but not exceptional power. • Standard all-wheel-drive is the brand's calling card. • A hybrid option would likely increase desirability, as it has with similar-sized competitors.
Active safety: Blind-spot warning with cross-traffic backup alert (opt.); active cruise control (std.); emergency braking (std.); inattentive-driver alert (std.); lane-keeping assist (std.); pedestrian warning (n.a.); automatic high beams (n.a.)
L/100 km (city/hwy): 12.3/9.4
Base price (incl. destination): $43,550
BY COMPARISON
Hyundai Palisade
Base price: $50,700
Eight-passenger utility comes with a 291-h.p. 3.8-litre V-6. AWD is standard.
Mazda CX-9
Base price: $44,450
Midsize utility uses a turbo 2.5-litre I-4 with up to 250 h.p. AWD is standard.
Mitsubishi Outlander
Base price: $35,000
A 181-h.p. I-4 and AWD are standard. A plug-in hybrid is available.
– written by Malcom Gunn, Managing Partner at Wheelbase Media
If you're interested in new or used vehicles, be sure to visit TodaysDrive.com to find your dream car today! Like us on Facebook and follow us on Instagram