Toyota and its upscale Lexus division are leaders when it comes to their vast assortment of hybrid vehicles, so it seems unusual that the brands are not exactly leading the charge for battery-electrics.
The reason? Toyota sees hybrid technology as the natural progression to cutting emissions — right now — in a way that's affordable to consumers.
There is, however, mounting competition in the electric-vehicle market — viewed by many consumers to be the cutting edge — and Lexus customers consider the brand to be a technology leader. Where's the answer to Tesla or Cadillac or Genesis, then?
Well, they'll be happy to see the Lexus RZ 450e. The midsize five-passenger crossover leans heavily on the new Toyota bZ4X and the Subaru Solterra EVs. All use the same Toyota eTNGA platform that's specifically designed for EVs.
The RZ 450e's styling has the key elements common to every Lexus, but the usually enormous grille is instead an enormous flat panel. The nose also dips more since the electric motor requires less room, which helps cheat the wind.
The small opening at the bottom has shutters that move to let in outside air when cooling is required.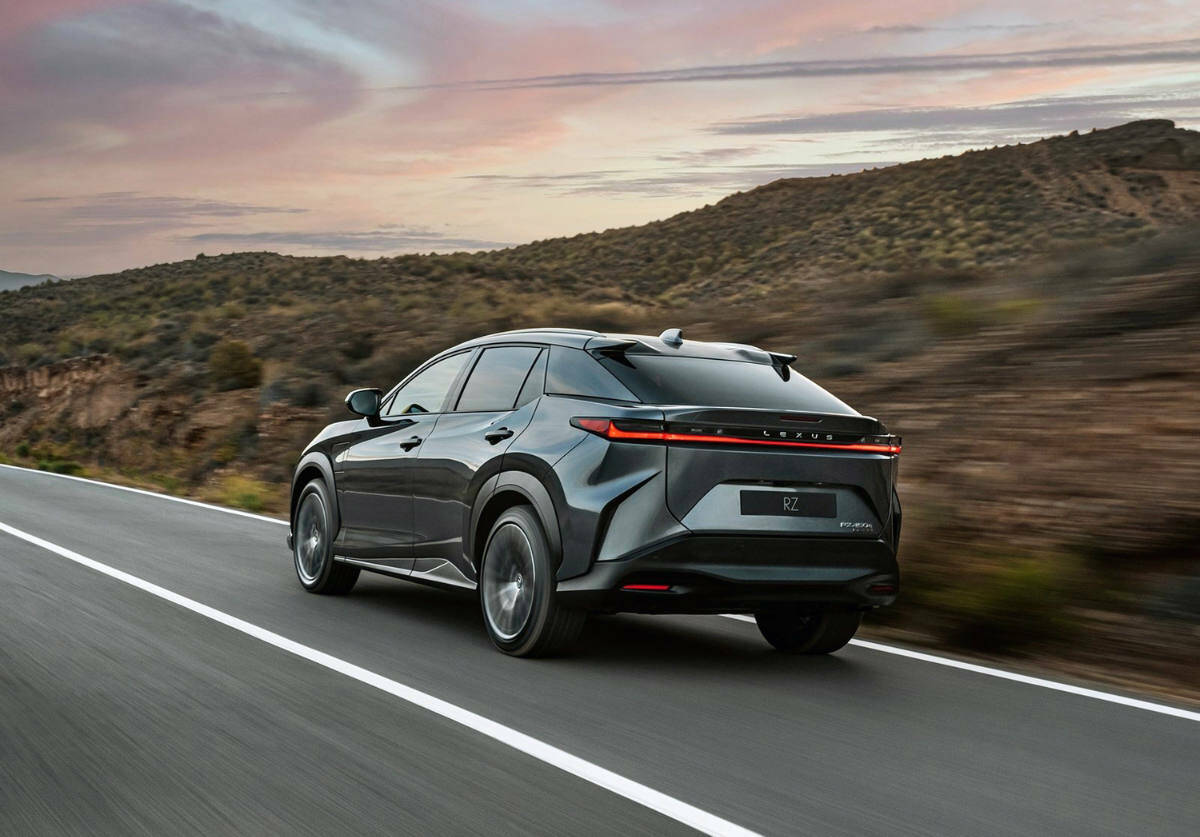 In terms of length, width and distance between the front and rear wheels, the RZ is a close copy of the popular Lexus RX.
The RZ has a flat floor that yields a bit more interior space than the RX, but the RZ loses out in terms of cargo volume behind the rear seat, owing to the room needed for the rear motor.
The cabin is dominated by a 14-inch touch-screen that oversees the infotainment, navigation and climate functions. A volume knob is positioned below the screen while a larger drive-mode selector is located on the console. Five USB ports are located throughout the cabin, which is great, but there's no traditional glove compartment in the dash.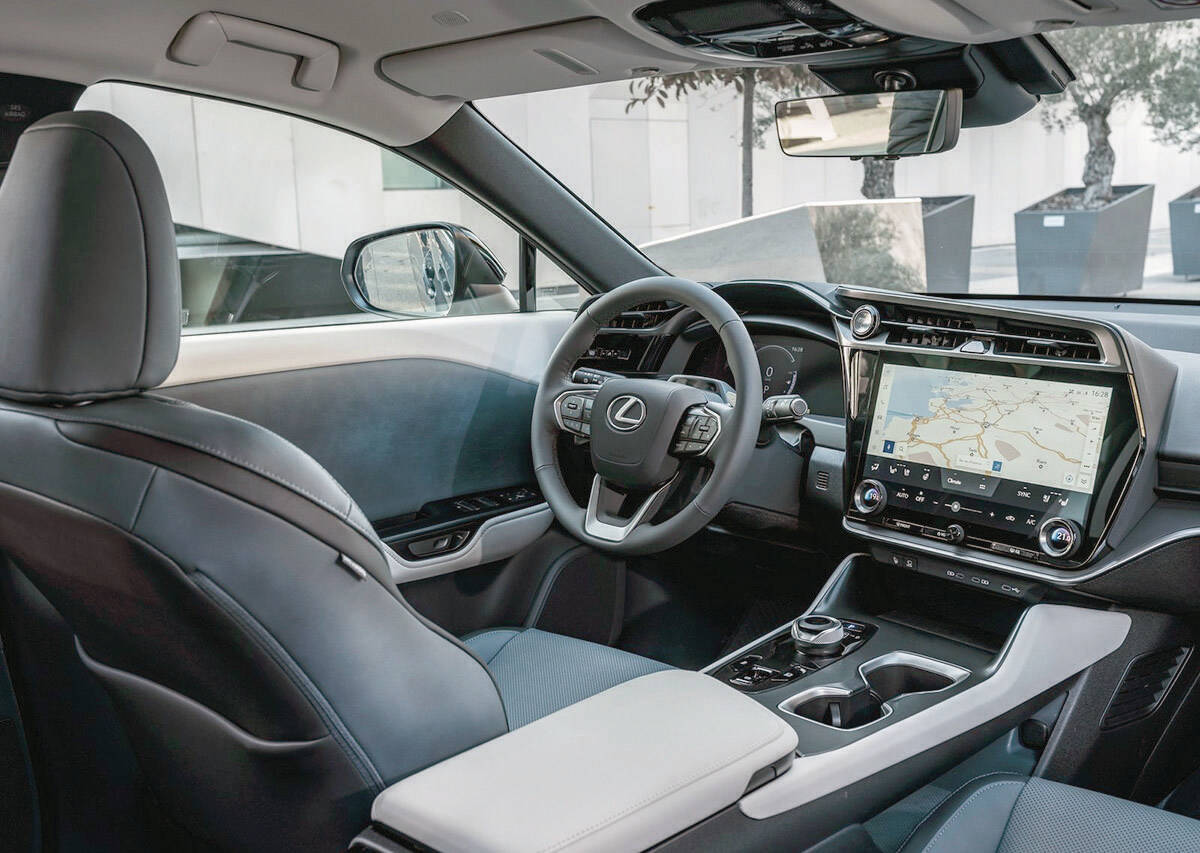 The RZ 450e's front and rear electric motors, supported by a 71.4-kilowatt-hour battery pack, produce a net 308 horsepower and 320 pound-feet of torque. That's considerably more than the bZ4X's 214/248 numbers.
As driving conditions dictate, all the power can be directed to either the front wheels or the rears. Here's an interesting nuance: Maximum range is estimated at 354 kilometres when the RZ is fitted with 18-inch wheels, but that reduces to 315 kilometres when 20-inch wheels are selected. For comparison, the Genesis Electrified GV70 is rated at 378 kilometres and the Cadillac Lyriq EV is rated at 493 kilometres.
The RZ with 18-inch wheels earns the equivalent of 2.0 l/100 km in the city, 2.4 l/100 km on the highway and 2.2 l/100 km combined.
The RZ can hit 60 mph (96 km/h) from rest in five seconds, according to Lexus.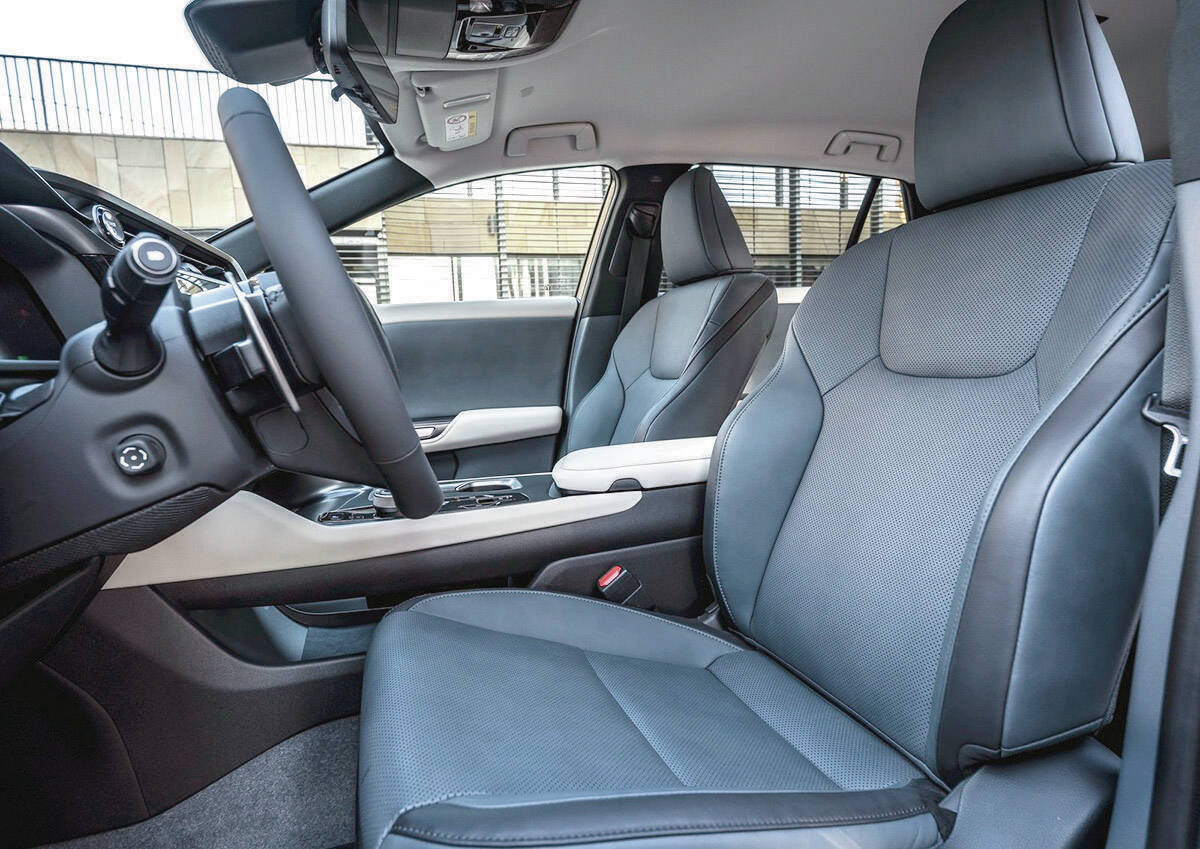 Using a 240-volt Level 2 station (the most plentiful kind and what buyers will install at home), charging the battery pack to 100 per cent from empty takes about 9.5 hours. With a 480-volt DC Level 3 station (found in far fewer numbers and places than Level 2 stations), charging to 80 per cent from 10 takes about 30 minutes. Why 80 per cent? Companies tend to publish their best numbers and charging rate slows down considerably after 80 per cent is reached.
The base RZ 450e Signature starts at $68,200 including destination charges. Buyers get eight-way power-adjustable heated front seats, heated steering wheel, wireless phone charging, ambient interior lighting and a 10-speaker sound system.
Note that the more you use the power accessories — such as the cabin heater, the fan or even the audio system — the less driving range you'll have.
Blind-spot monitoring with rear cross-traffic alert, emergency braking, pedestrian detection and automatic high-beam control are also standard.
The optional Executive trim ($84,200) comes with a panoramic moonroof, hands-free power liftgate, faux suede seat coverings, knee-level front-seat radiant heater, head-up driver's information display and a 13-speaker Mark Levinson-brand sound system. Also included are front cross-traffic alert, lane-change assist, reverse-auto-tilting rearview mirrors and a system that can parallel-park the RZ or drive it into and out of a slot or stall.
The RZ 450e is a good place for Lexus to start with EVs and it won't go unnoticed by buyers who have been patiently waiting for such a model. What they'll get is a well-outfitted, lively machine for a reasonable price.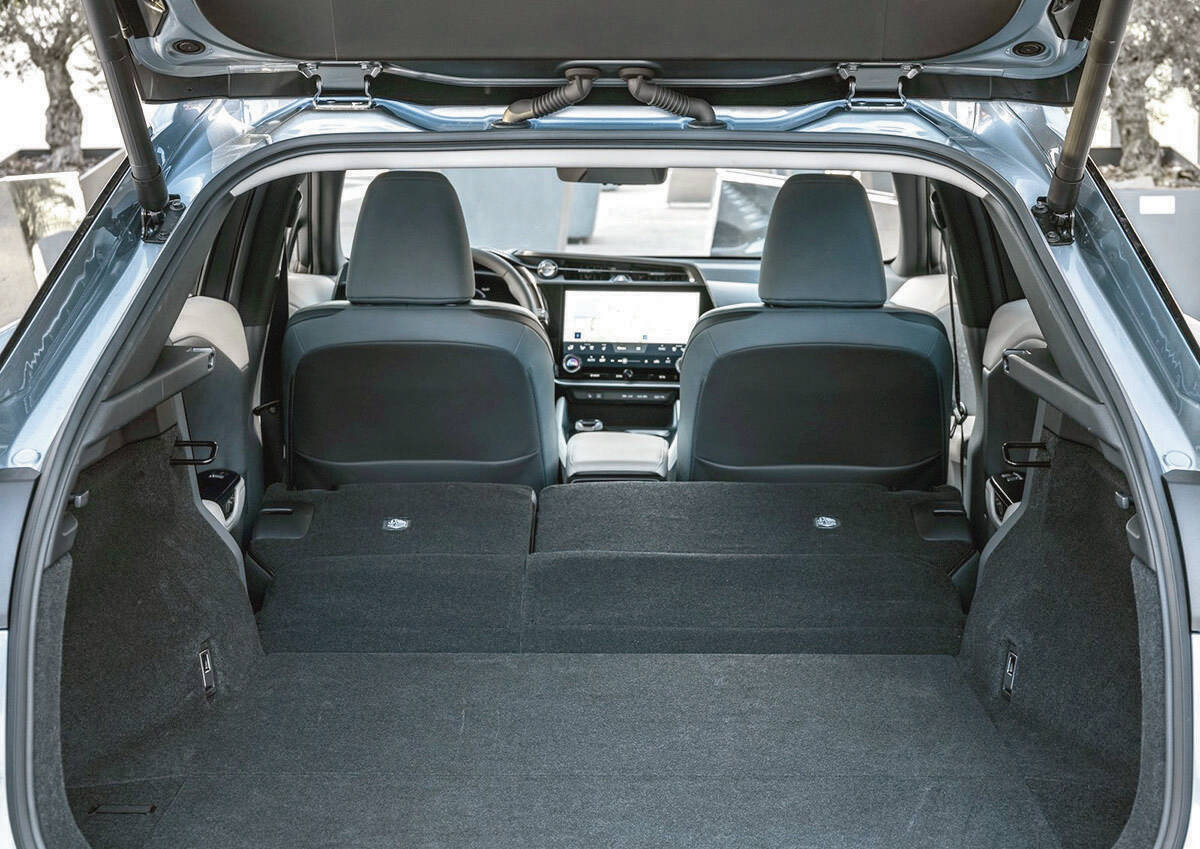 What you should know: 2023 Lexus RZ 450e
Type: All-wheel-drive midsize utility vehicle
Motors (h.p.): Front and rear electric (308, net)
Transmission: Single-speed controller
Market position: The RZ 450e is the first battery-electric Lexus and lands right in the sweet spot of the midsize crossover category. It uses a common platform that's also used by Toyota and Subaru.
Points: Front-end styling maintains a look that's common to all Lexus vehicles. • Roomy interior comes with large touch-screen display. • Electric motor output and battery range should prove more than adequate, but it's far from leading the class. • Well-equipped base model has a reasonable list price.
Active safety: Blind-spot warning with cross-traffic backup alert (std.); active cruise control (std.); front and rear emergency braking (std.); inattentive-driver alert (std.); lane-departure warning (std.); pedestrian warning (std.); Automatic high beams (std.)
Le/100 km (city/hwy): 2.0/2.4 (base)
Base price (incl. destination): $68,200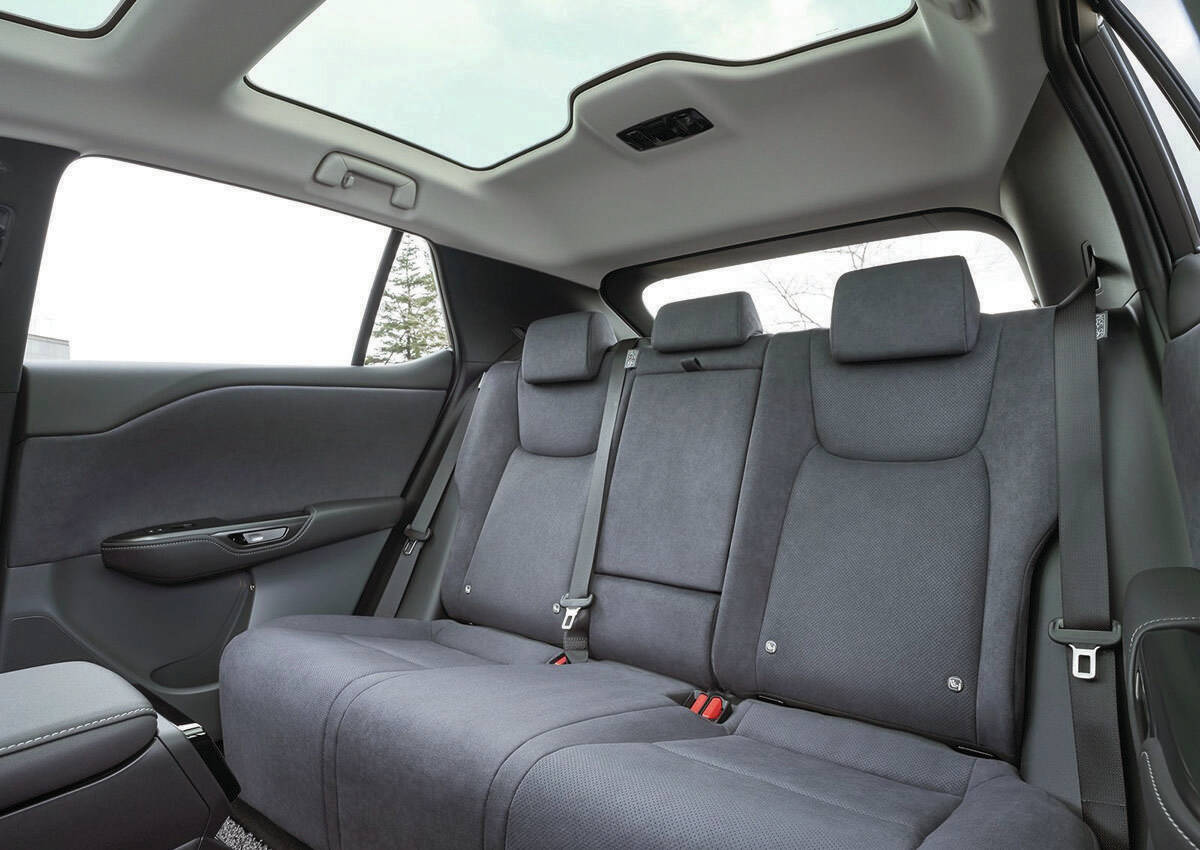 BY COMPARISON
Cadillac Lyriq
Base price: $69,800
EV comes with one or two motors with up to 500 h.p. and a 493-kilometre range.
Genesis Electrified GV70
Base price: $84,000
AWD EV produces 483 h.p. and provides up to 378 kilometres of range.
Audi Q4 e-Tron
Base price: $63,400
Well priced and offers up to 295 h.p. and 425 kilometres of range.
– written by Malcom Gunn, Managing Partner at Wheelbase Media
If you're interested in new or used vehicles, be sure to visit TodaysDrive.com to find your dream car today! Like us on Facebook and follow us on Instagram