By Blair Qualey
Children have celebrated the end of the school year and parents now have the sometimes-daunting task of keeping them busy and entertained for the next two months. For many families, a holiday road trip is a traditional part of summer vacation, to visit friends or family or explore another part of the province or country.
There are endless opportunities to explore Beautiful British Columbia. Hello BC, as an example, provides some great advice if you are interested in pursuing some of the province's most scenic drives, and DriveBC provides invaluable driving condition updates.
Some of these drives include:
Highway 16 – Smithers to Terrace and Prince Rupert: Smithers and Terrace draw outdoor enthusiasts for salmon fishing, boating, and camping. However, you can also visit the Hazeltons and learn about First Nations culture, and travel Highway 16 west along the mighty Skeena River and take in the glorious Seven Sisters Peaks. The drive from Terrace to Prince Rupert is equally spectacular, with glimpses of tall waterfalls trickling down the mountains. Then, all of a sudden, you're at the Pacific Ocean in Prince Rupert.
Sea to Sky Highway – Vancouver to Whistler and Pemberton: The name Sea to Sky says it all. From sparkling ocean right on up to breathtaking peaks, you can pull into a roadside viewpoint for a view of Howe Sound or stop in Squamish and ascend high above the turquoise waters on the Sea to Sky Gondola. In Pemberton, you will find a pastoral valley that rewards those who go the distance with golf, mountain biking, fishing, and more.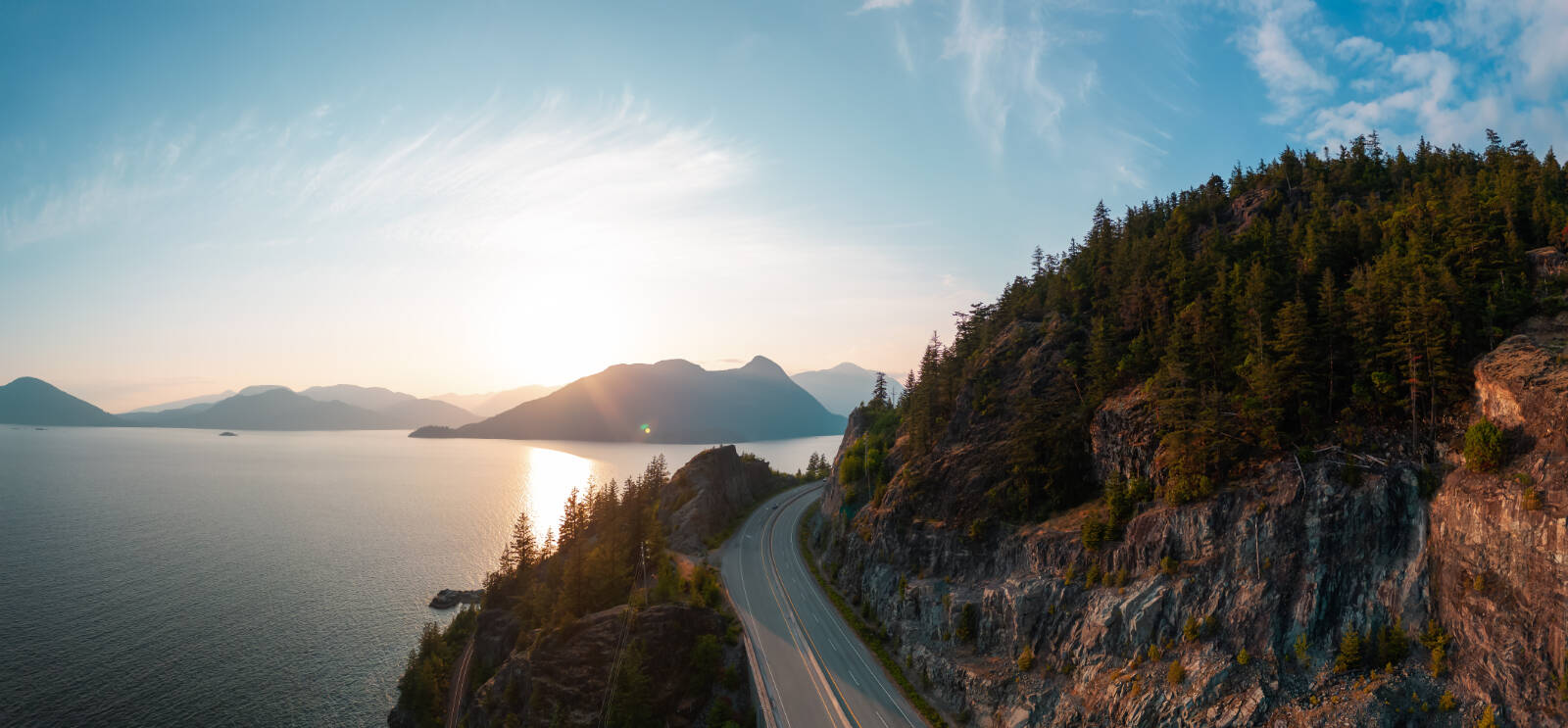 Route 97 – Osoyoos to Lake Country and Vernon: From Osoyoos, the 150-kilometre route winds north through the fertile Okanagan Valley toward the summertime playgrounds of Kelowna and Lake Country. The options are plenty, from taking a refreshing dip in Lake Okanagan, wine tasting through the area's many vineyards or continuing to Vernon for paddleboarding on Kalamalka Lake. Along the way are many fruit stands piled high seasonally with ripe cherries, peaches or apples.
Trans-Canada Highway 1 – Revelstoke to Golden: Mountain majesty dominates this route, where you can hike through alpine flowers just a short walk from your car at Mount Revelstoke National Park. The 148-kilometre stretch between Revelstoke and Golden traverses one of B.C.'s great mountain crossings: Rogers Pass.
Trans-Canada Highway 1 – Hope to Cache Creek: This route offers the opportunity to experience gold rush history. The Trans-Canada Highway hugs the Fraser north to Hell's Gate, where you can take a dramatic air-tram ride over the raging waters. Tuckkwiowhum Village, a First Nations heritage site near Boston Bar offers lessons in Nlaka'pamux culture. Further on in Cache Creek, which once served as the halfway point for prospectors on their way to the Cariboo gold fields, you can go geocaching to uncover your own treasures.
But before you pack your bags, remember to make sure your vehicle is road trip-ready before setting off. It's also a good idea to not only thoroughly research your routes to make sure you're not missing any must-see attractions but also to ensure your vehicle is in good working order. And for those with a zero-emission vehicle, check the latest charging station locations using resources like BC Hydro's EV Networking Map and related EV app or the Plug Share app.
With so many scenic areas to explore, B.C. provides the perfect getaway for visitors and locals alike. Plan ahead for your summer trip and drive safe!
Blair Qualey is President and CEO of the New Car Dealers Association of BC. You can email him at bqualey@newcardealers.ca.