Who remembers sitting in a circle on the outside patio with sisters and friends to peel pounds and pounds of pesky pearl onions?
Once that chore was done, it was time to move on to cleaning huge bowls of crunchy green beans.
The reason?
To help moms and/or Nonnas make enough jars of antipasto to get the family through winter and spring.
The finicky food prep was well worth it after tasting the treasured condiment on a cracker for the first time, usually at Christmastime.
Speaking of antipasto, Lana Rodlie (nee Baldassi) is sharing her award-winning family recipe with readers.
Like in the Rodlie family, the making of antipasto is often a generational family tradition involving hours and hours of food prep and canning. Sometimes, if lucky, it's topped with a homemade glass of vino or two.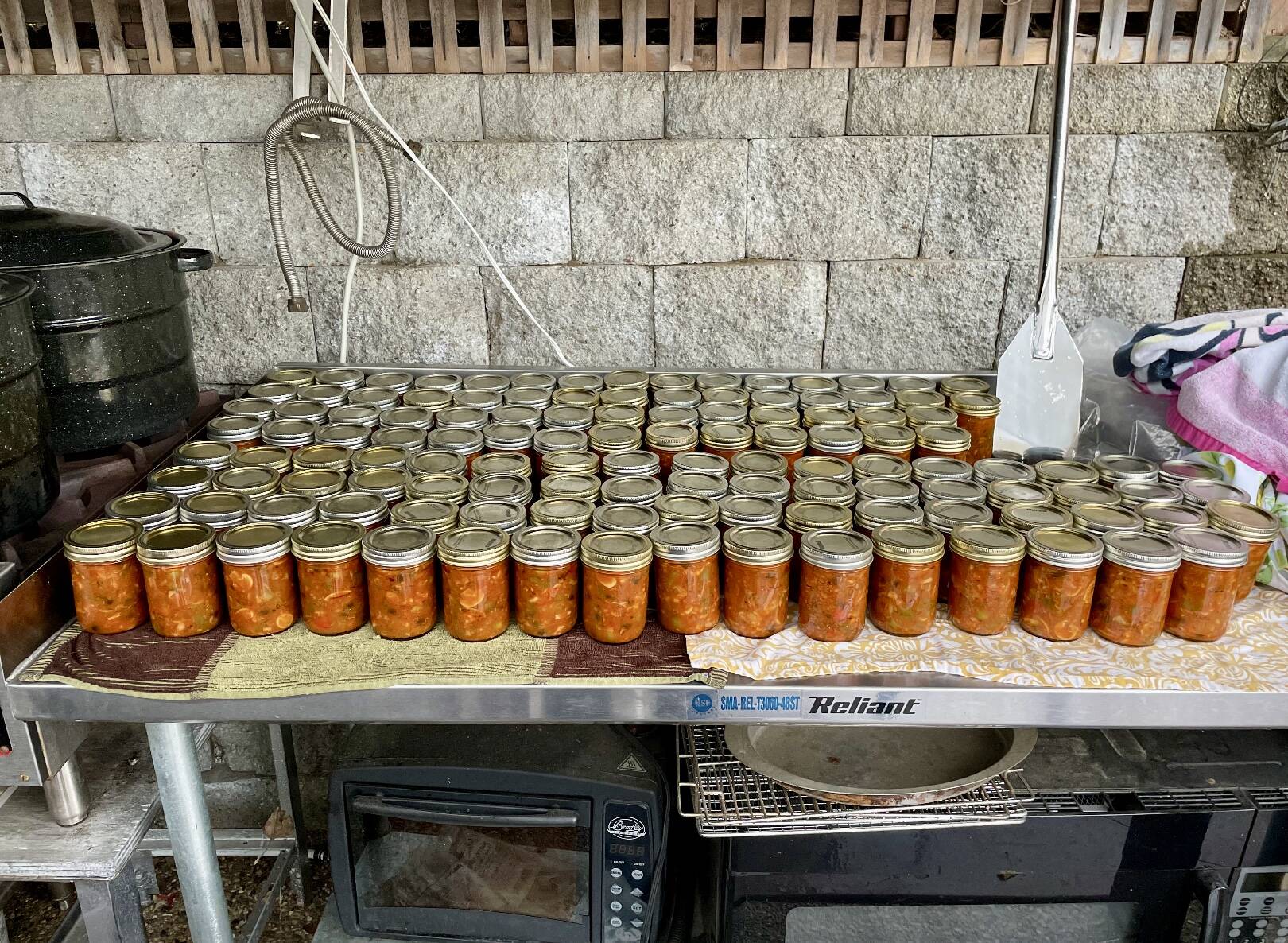 Baldassi family recipe
Ingredients:
4 lb. pickling onions (or if lazy, used 4 or 5 jars of pickled onions) We've done it both ways.
3 to 4 lbs. cauliflower – cut into small bite size pieces.
6 to 7 tins sliced mushrooms – chop them up if they are too big. DO NOT USE fresh mushrooms.
2 to 3 lbs. green and yellow beans (on lazy days, we've used canned beans)
3 lb. green peppers
2 lb. red peppers
5 - 16-oz. tins black pitted olives (get the sliced ones, or slice them in a food chopper
6 tins (8-oz. tuna – use good water-packed solid tuna, the best you can get.)
4 – 16-oz jars of stuffed olives (again, you could slice them in half to keep the red stuff inside)
2 - 13-oz tins of anchovies in oil (I used to omit this because nobody likes anchovies, but you really can't taste them, however they help to "glue" the antipasto together. Make sure you throw in the oil.)
2 jars of dill pickles (chopped into small bites – we use what's left over from last year's dill pickle batch)
¾ cup olive oil
¾ c. white vinegar
Ketchup – I use 1 -100-oz. tin = you can use more or less.
All the bulk items are easily ordered in at Marino Wholesale.
Method
Get the biggest pot you can find. I suppose you could half the recipe. The pot I use won't fit on a regular kitchen stove, hence we do it outside. And we make a double batch.
When cutting up the veggies and stuff, keep in mind that you want stuff small enough so that you get mostly a piece of everything when spooned onto a cracker.
• Cut the cauliflower into small flowerettes and steam until tender, about 10 minutes. Add a bit of salt to the water.
• Cut the beans in small pieces and steam them as well until they come a bright green. I put a little sugar in the water.
• Prepare onions – if using fresh ones, pour boiling water over them and then peel them. You can leave them whole or cut in half to prevent them from rolling off the cracker. Ditto for the olives.
• Chop peppers.
• Open cans
• Drain tuna but DO NOT DRAIN ANCHOVIES. Us the oil. The tuna can be broken up a bit and anchovies chopped into small bits.
• Get the pot on the heat and add the olive oil.
• When hot, add the mushrooms, fry a bit and
• Add peppers. Fry more.
• Add onions. Fry more.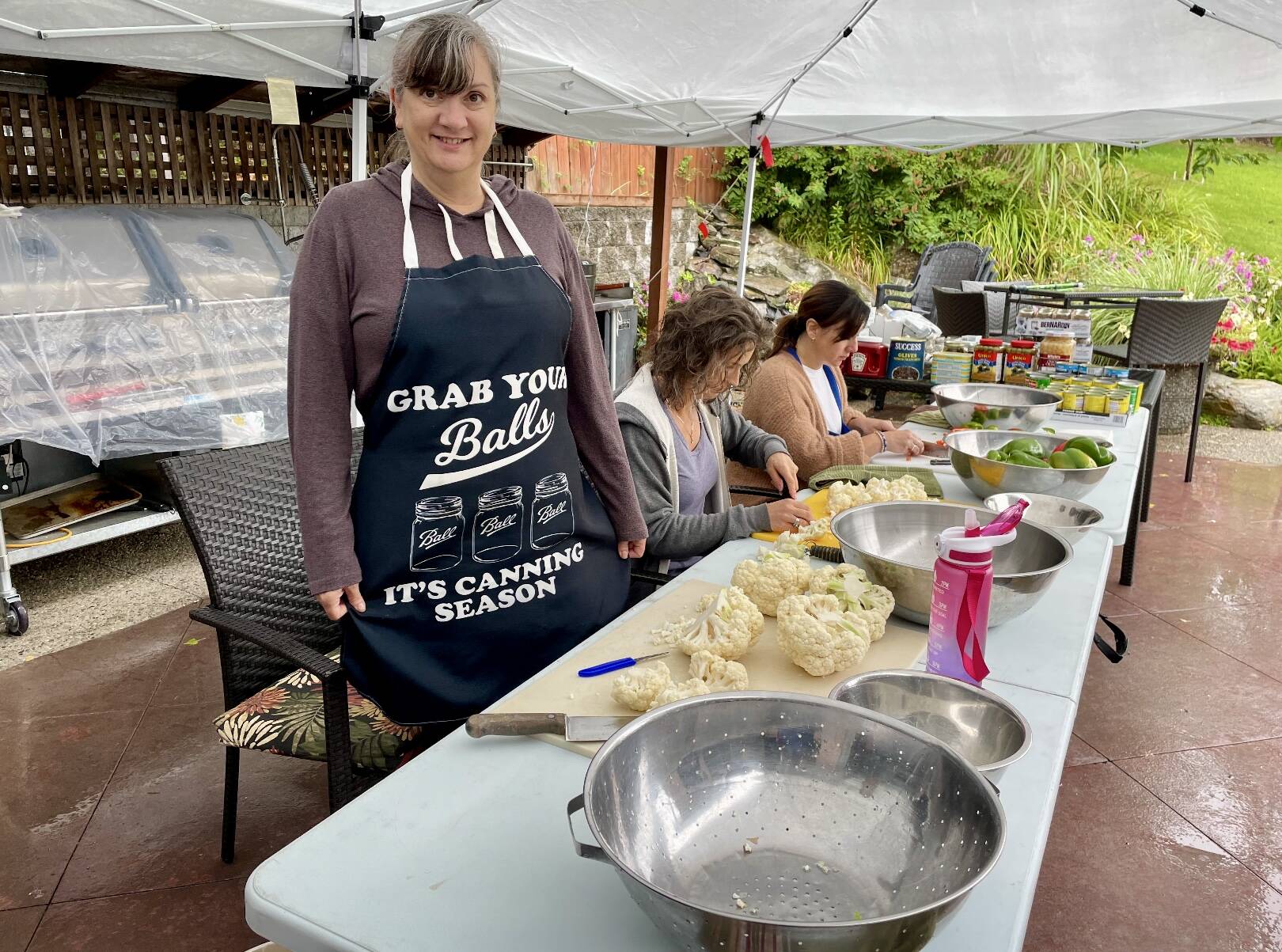 Tip: As things are added, make sure the ingredients in the pot are hot and cooking before the next item goes in. This keeps it cooking and takes less time than throwing everything in the pot and waiting all day for it to heat up.
• Add ketchup. Again, you can kind of see how soupy you want it.
• When the mixture in the pot is bubbling, you can start adding in the other ingredients. Again, let the pot return to boil as you add each one in the order listed above.
• Vinegar goes in last.
• Bring it all to a boil for about 10 minutes,
• then put in hot prepared mason jars, cover with lids and then place in a boiling water bath for 15 minutes (pints). We use ½ pints and you can stack them in the canner.
That's it.
You can mess a bit with the ingredients – more olives if you like, less onion, whatever. But don't mess with the ketchup and vinegar. We like it thick but not runny.
Happy canning!