It was a Canada Day celebration like any other in Nakusp until a serious incident called the first responders who were helping with the festivities into action.
On Saturday (July 1), the Canada Day parade was just finishing up around noon and the firefighters were preparing to head out and help with the annual lawnmower races.
Then, a call for rescue came in. A 29-year-old female was driving her ATV with her family southeast of Nakusp near Horseshoe Lake, a popular off-road area when she lost consciousness and drove off a 150-foot embankment.
Bri McQuair of Arrow Lakes Search and Rescue knew the area of the incident and had taken her Jeep up there in the past. Search and rescue personnel, along with a doctor, jumped in her Jeep with her and rushed to help.
When they arrived, they hiked down the embankment and found the woman with a fractured leg. The doctor, Dr. Craig Courchesne of the Saddle Mountain Medical Clinic, supported the woman's leg and talked to her.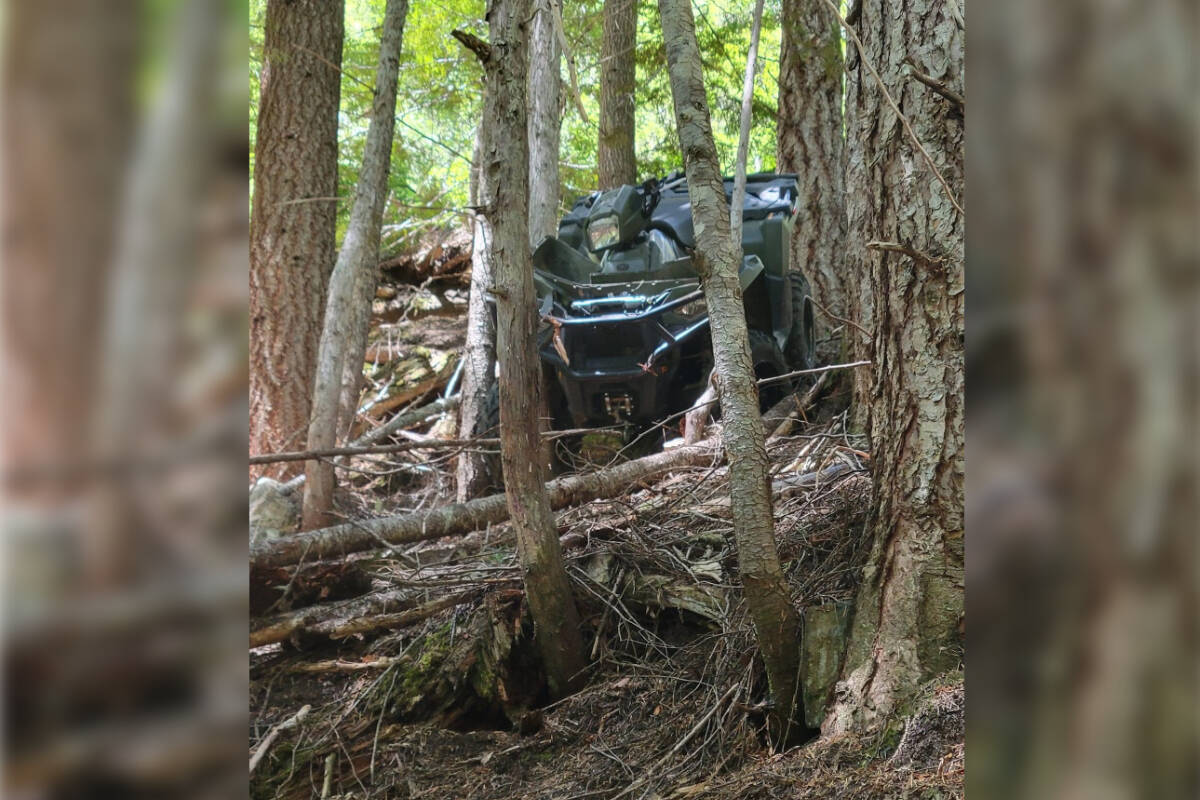 Courchesne told McQuair, an off-duty paramedic herself, that they would need to make a splint, but because of the circumstances, they didn't have any medical supplies.
McQuair rummaged through her car to gather make-shift medical supplies. She pulled out her snow brush when a Mountie pulled up in a truck behind her, pointed at the brush and said: "I have one of those."
"Perfect," replied McQuair. Then, with a pair of snow brushes and duct tape in hand, she hiked down to Courchesne and the woman. They duct-taped the two snow brushes around her leg and created an improvised splint.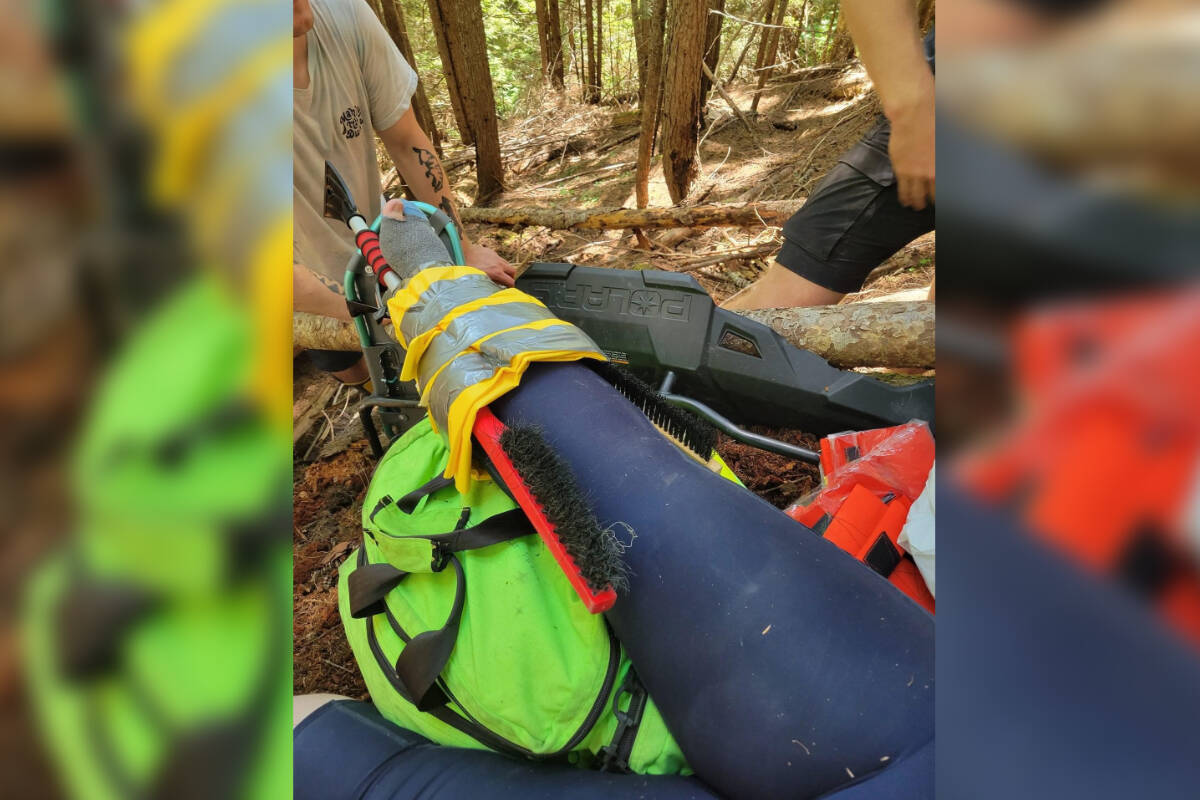 "Everyone makes fun of me for keeping winter things in my vehicle in the middle of summer, but it proved to be helpful in this," she laughed in an interview after the incident.
The group sat on the edge of the bank for a few hours waiting for the rope rescue team to assemble and for the helicopter from Revelstoke to arrive.
Eventually, they were able to extract the woman by helicopter to a staging area by the highway. She was then transported to Arrow Lakes Hospital in Nakusp before heading to Kootenay Boundary Regional Hospital in Trail for surgery.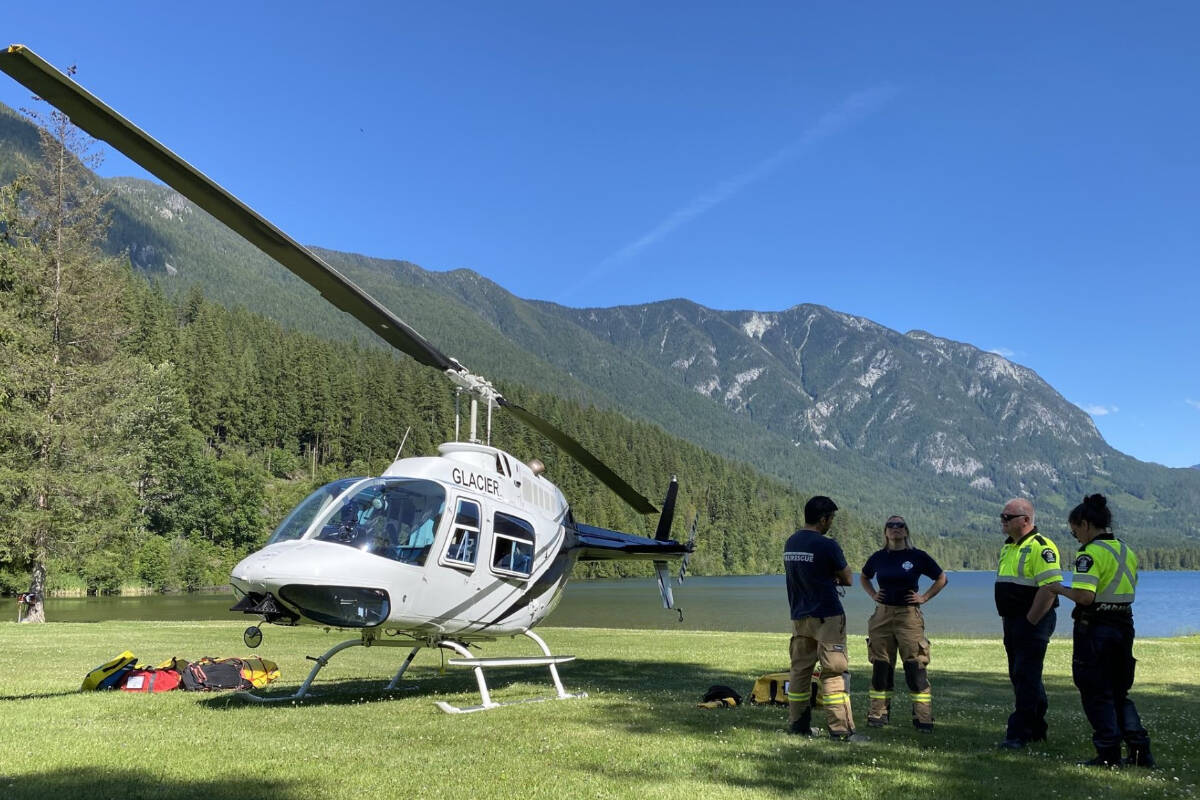 According to McQuair, about 25 people were involved in the woman's rescue. McQuair and the rest of the local team then headed back to finish the Canada Day fireworks show that same evening.
"It's definitely a Canada Day that none of us are going to forget any time soon," said McQuair. "But, it all worked out for the best, and she was a trooper."
McQuair added that it was later determined that the reason the woman lost consciousness on her ATV that day was due to dehydration on that hot July day and low blood sugar due to not eating.
She also added that the woman is now heading back to Edmonton with a cast on her leg.
The mother of the woman took to the Nakusp Communicator Facebook page after the incident to thank the first responders who helped her daughter on Canada Day.
"These people busted their butts setting up for Canada Day, then left their own party, and left family and friends to help someone else in need," she said in her post. "You truly do not get enough praise and recognition and I am so grateful for this amazing community."
---
@josh_piercey
josh.piercey@revelstokereview.com
Like us on Facebook and follow us on Twitter.
and subscribe to our daily
newsletter
.